Vegas Uncork'd by Bon Appétit is one of the biggest events in the foodie world. Every year, the best chefs in the world gather in Las Vegas for a weekend celebrating the culinary arts.
With the help of Cirrus Aviation, the Destination Luxury team flew into town in one of their bespoke Citation III jets. It was a quick 45-minute flight from Los Angeles and we couldn't have been more excited to start the Vegas weekend.  The city is the host to a myriad of events during the course of the weekend, from intimate dinners to culinary blowouts.

The festivities began with a pop with 3-Michelin-Star Chef Daniel Boulud using a saber to cut of the top of a champagne bottle at the Venetian. The evening just got better from there, with an all-star dinner experience hosted by top chefs Emeril Lagasse and Daniel Boulud.
Notable attendees included Livier Dubreuil (executive chef of The Venetian and The Palazzo), Kim Canteenwalla (chef and restaurateur), David Werly (executive chef of Mandarin Oriental Las Vegas), Adam Rapop0rt (editor-in-chief of Bon Appetit magazine) and Sebastien Silvestri (vice president of food & beverage at The Venetian and The Palazzo).
Supermodel and television personality Tyra Banks indulged in chilled Alaskan king crab and halibut with spring asparagus prepared by Emeril Lagasse. Daniel Boulud prepared a grilled gambas and cumin chicken tagine made by Olivier Dubreuil, porchetta, wild fennel and truffle farce from Kim Canteenwalla and a dessert of vanilla and strawberry vacherin glace by David Werly.
Meanwhile at Caesars Palace at Nobu, Chef Nobu Matsuhisa hosted an intimate $1,000 ticket Omakase meal for 12 lucky guests. Dishes were paired with Kagua Blanc Belgian Strong Ale, Krug Grande Cuvee, Junmai Daiginjo Koshitanrei Hikari and Daiginjo Yk35 Jukusei Koshu. All proceeds from the dinner benefited Keep Memory Alive, a nonprofit benefiting patients and their families as they navigate the extraordinary challenges of brain disorders, including Alzheimer's, Huntington's and Parkinson's disease.
Also at Caesar's, Mr. Chow hosted a theatrical dining experience for its inaugural event for the foodie extravaganza. Guests enjoyed a champagne trolley, decanting of the wine, sole filleting, Beijing duck and a signature MR CHOW noodle show. The dinner was topped off with the famed dessert trolley.
Greg and Marc Sherry hosted an over-the-top dinner experience at Old Homestead. Guests sipped on premium vodka drinks and indulged in a caviar appetizer tower with citrus steamed sturgeon, grilled filet mignon, and almond lemon torte.
The main attraction of Vegas Uncork'd is the Grand Tasting which was held at the Garden of the Gods Pool Oasis at Caesars Palace on Friday night. Celebrating the 10th anniversary of Vegas Uncork'd, 2,000 guests wined and dined on signature dishes of more than 50+ world renown chefs and mixologists including Giada de Laurentiis, Salvatore Calabrese, Gordon Ramsay, Guy Savoy, Nobu Matsuhisa, Daniel Boulud, Rick Moonen and Hubert Keller.
Michael Mina Lunch at the Golden Steer
Saturday night saw Michael Mina's Steakhouse Redux at the Golden Steer. Mina joined the staff at the iconic Golden Steer Steakhouse to add a modern spin to the classic steakhouse experience. Officially the oldest steakhouse in town, guests were transported to the Rat Pack era with live music and classic and modern variations of cocktails, paired with a decadent lunch featuring Maine lobster "cocktail," Caesar salad, Yemenite-spiced Mishima reserve Wagyu and bananas foster flambé. The Wagyu beef was our absolute favorite.
Gordon Ramsay, Guy Savoy & Francois Payard – Chefs of the Gods
Chefs Gordon Ramsay, Guy Savoy and Francois Payard joined culinary forces for the Chefs of the Gods event, independent of the Vegas Uncork'd program. Ramsay kicked off the evening with a multi-dish demonstration providing guests with a Beef Wellington, carrots and mashed potatoes, artisinal bread and pear tarte tatin. Payard dished on his famous chocolates and Savoy demonstrated his famous artichoke and black truffle soup. The event was a live cooking show where not only did the guests get to see their food prepared by the famous chefs, but enjoyed their delectable delights immediately afterward.
Downtown Container Park – Comforts and Classics
On Saturday evening, guests had the chance to head off The Strip to experience one of the city's newest dining hot spots, Downtown Container Park. With live music by local band, Stoked!, attendees sampled the limited edition Crackle Burger and Vegas Uncork'd concrete from Shake Shack, ramen bowls and surf and turf from local favorites Itsy Bitsy Ramen and Whiskey and The Perch and Yardbird Southern Table. Patron also provided guests the opportunity to create their own cocktails as mixologists.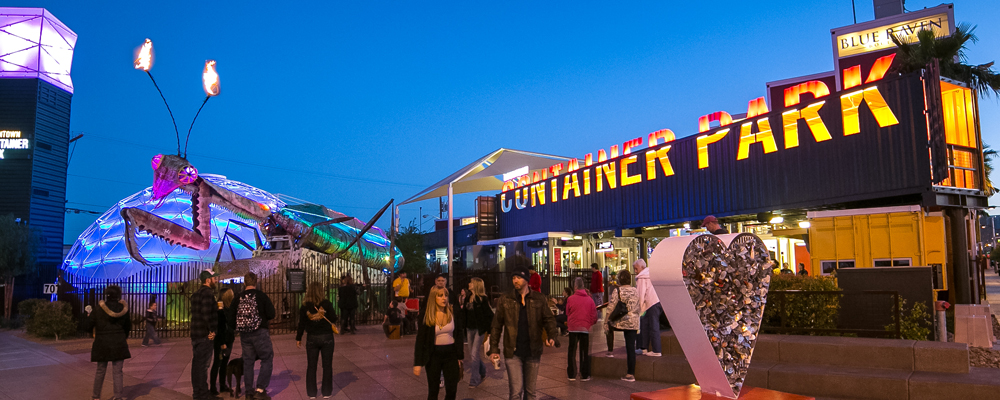 Eye Openers & Eats Cocktail demos with Salvatore Calabrese & Francesco Lafranconi
Two of the world's best bartenders: 'The Maestro' Salvatore Calabrese and Francesco Lafranconi hosted a cocktail demonstration at the Southern Wine & Spirits Cocktail Academy. During brunch, guests sipped on top wine, spirits and feasted on delicious food prepared by chefs Hubert Keller and Rick Moonen. They indulged in yellowtail tiradito, aji Amarillo and citrus Peruvian corn. Salvatore & Francesco held a giant ice cube and made countless jokes through the afternoon.
We can't wait for next year's Vegas Uncork'd. With all the food, wine and spirits, this is definitely an event not to be missed for culinary fans.