Northern Ireland has always been on our dream list when it comes to the best of cultural experiences, not to mention epic charm. With the height of summer and major traveling upon us, we thought we'd share some of the top things you should check out – from one of the top five road trips in the world, UNESCO World Heritage Sites, the world's largest Titanic visitor experience, classic pubs, monumental castles, and magical gardens, to famous filming locations, and awe-inspiring countryside. So whatever your fancy, there's something for everyone.
1. Peace Walls, Pubs, And The Titanic: Belfast City  
"Get here early and enjoy it before the rest of the world arrives." – Lonely Planet, 2011
Fly straight into Belfast and soak up a cultural scene with some of the most welcoming people on the planet.
Check into The Merchant Hotel – Belfast's only 5 Star hotel situated in the heart of Belfast city center's historic Cathedral Quarter.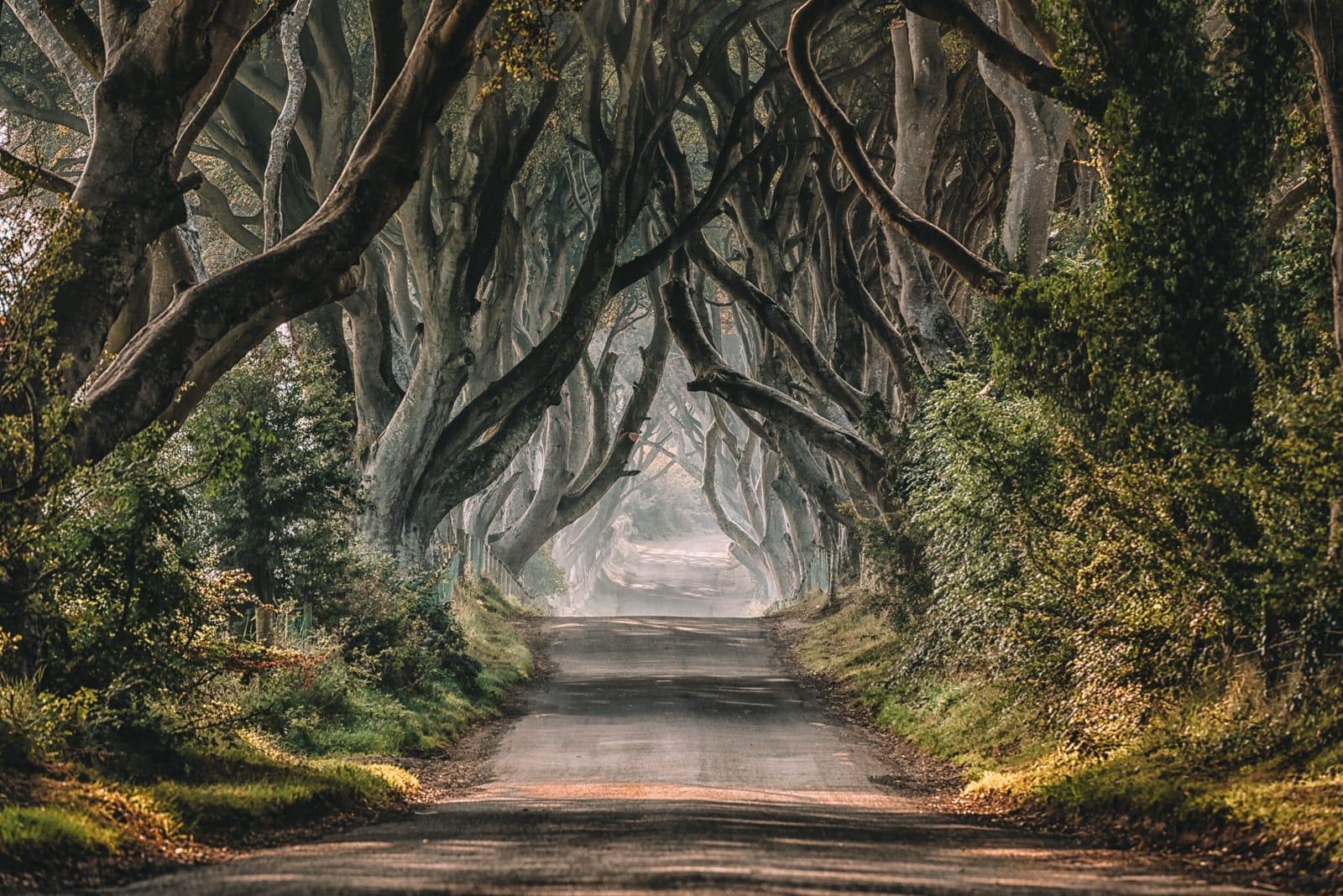 From here, you're just a short distance from a host of its core attractions including Victoria Square, the Titanic Quarter (yes, the birthplace of THE Titanic), and of course, its world-renowned Irish pubs dating back to the 1700s.
Part of what makes Belfast so historically interesting is its conflicted past and its Declaration on Peace that stands for only 22 strong years. After three decades of conflict, you'll find over 21 miles of peace walls filled with thought-provoking graffiti and powerful quotes.
"Strength and wisdom are not opposing values." – Bill Clinton, on the peace wall.
Next, head over to another wow factor: the world's largest Titanic experience and Belfast's most famous creation: Titanic Belfast. Located next to the historic site of the world-famous ship construction, relive a real-life journey – six floors of hair-raising storytelling from Titanic's conception to its famous maiden voyage that will make you feel like you're on the ship itself.
Don't Miss: No trip to Northern Ireland is complete without a visit to a classic pub. Nestled along a historic cobbled alleyway, The Duke of York provides the pleasure of a cold, creamy Guinness and the largest selection of Irish whiskeys in Ireland.
2. Mansions And Gardens: Mount Stewart
Walk in the glittering footsteps of kings, queens, prime ministers, and luminaries while getting lost in the unusual gardens and mesmerizing mansion of Mount Stewart.
"I do love this place so deeply." – Edith, Lady Londonderry
Voted one of the top 10 gardens in the world, bold surprises of the garden reflect a rich tapestry of design and bold planting schemes created by the 7th Marchioness Edith, Lady Londonderry in the early 20th century.
Originally built in the 1700s and recently opened to visitors after a three-year-long restoration lead by Northern Ireland's largest conservation charity, the National Trust, it's easy to spend the entire day drifting through its 6 distinct gardens and lake walk while daydreaming of the royal holidaying that once took place.
Don't Miss: Grab a book from the site's unique secondhand bookshop and have a wonderland moment in the new Tea Room; or bring a blanket and head lakeside and have a leisurely read in the afternoon sunlight.
3. Road Trips & Rope Bridges: Carrick-A-Rede
You can't fully experience Northern Ireland without a road trip along the North Coast.
Rated as one of the world's 'great road journeys', Causeway Coastal Route from Belfast Lough to Lough Foyle, unveils some of Ireland's best-kept eye candy secrets.
Quaint towns that haven't changed much in a few hundred years, sprinkles of historic castles, and dramatic cliffside views towering some of the planet's most unspoiled waters are enough to keep you drooling all the way up the dramatic coast.
For pure exhilaration: Lace up those hiking boots, and get ready for heart-pounding bliss by crossing over the Carrick-a-Rede rope bridge.
Adrenaline junky or not, find yourself on the edge of an emerald world with the reward being rarely seen crystal clear Blue Flag certified waters, views of the Scottish Islands, and some of the most marveling bird watching sights ever discovered.
Don't Miss: After you've left Carrick-a-Rede and head further up the coast to the Giant's Causeway, stop and have a cup of afternoon tea and a bite at The French Rooms in Bushmills (home to the world's oldest licensed distillery). Go to the Garden Room and have a seat next to the cozy fire (Ireland's average temperature sits at a cool 50 degrees F) as you digest on the day's charmed wonders.
 4. Geological Wonders: The Giant's Causeway
If you've ever been curious about the perfect symmetry of a bee's honeycomb, precise six-sided hexagons replicated over and over, then prepare to have your mind blown at The Giant's Causeway.
A little further up the coast after you've visited Carrick-a-Rede, enter into a famous UNESCO World Heritage Site – 40,000 mysterious interlocking basalt columns created 60 million years ago by intense volcanic activity.
Each a perfect hexagon is reminiscent of the honeycomb, it's no surprise that travelers have been drawn here to ooh and aah for hundreds of years.
Don't Miss: While you (and half a million other visitors every year) will be instantly drawn to marvel at the complexity of nature's perfection presented here, don't miss the four stunning hiking trails that present the ultimate photo opp.
5. Set-Jetting: Game of Thrones Tour
"Set-jetting," otherwise known as travel that's inspired by famous film locations, has become a main driver of tourism in Northern Ireland thanks to the legendary HBO series, Game of Thrones.
Check out Discover Northern Ireland for a host of 1, 2, & 3-day self-drive itineraries highlighting key filming locations along the Causeway Coast and Glens region.
Get into full character and spirit with a professional archery lesson in authentic 'Stark Family' costumes with Winterfell Tours. A replica of the Winterfell Castle archery range movie set was masterfully recreated where the filming originally took place.
Bring the experience full circle with a Game of Thrones-themed banquet dinner inside the 17th century Ballygally Castle Hotel perched on the tip of the famous Causeway Coastal Route along the Antrim Coast.
Don't Miss: The Dark Hedges. Recently named Skyscanner's top 10 most amazing places you wouldn't believe exist on Earth; visit this photographer's haven of 300-year-old beach trees also strategically featured in the Game of Thrones series.
For more info on Northern Ireland, please visit: http://www.discovernorthernireland.com/
Jessica Blotter is CEO & Chief Kindness Curator of Kind Traveler, the travel industry's first 'give + get' digital platform that rewards travelers for making donations to benefit the community with exclusive rates on the world's best hotels. As a photographer and journalist, she contributes to Fast Company, Destination Luxury, Hospitality Design, Green Lodging News, CBS Los Angeles, Examiner, Spa Finder, One Green Planet, and the Boutique & Lifestyle Lodging Association (BLLA). Connect with her on Twitter @travelkindly
By Jessica Blotter, exclusively for Destination Luxury.