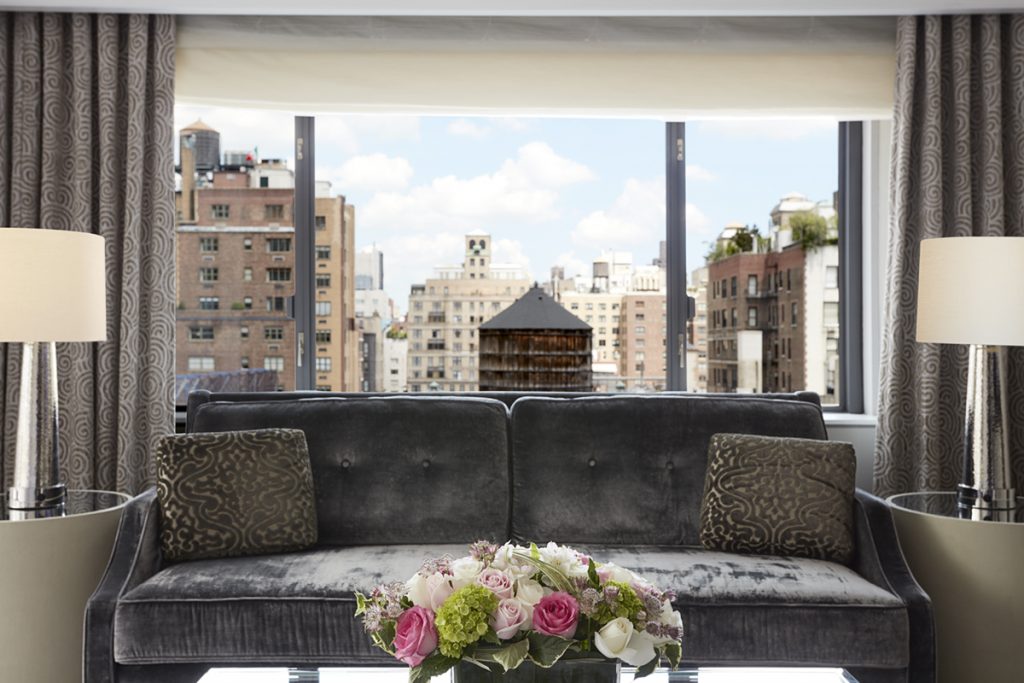 Just two blocks from a spring stroll through Central Park, and two blocks from the designers on 5th Avenue, the Loews Regency is poised unassumingly on Park Ave, offering an elegant yet understated home-from-home for its residents, whether fleeting for a weekend or a less hurried stay.
The tasteful and welcoming lobby may lack the grandeur of some neighboring hotels, but the vibrant bar and restaurant attached, The Regency Bar & Grill is famed for its Power Breakfast – not referring to the items on the menu, but the esteemed guests and deals that frequent the spot.  For those wanting a chic & whimsical, yet grab-and-go option, the adjoining Sant Ambroeus Coffee Bar delivers just that with a mixed Italian-New York coffee and patisserie vibe, perfect for the sweet tooth or morning boost.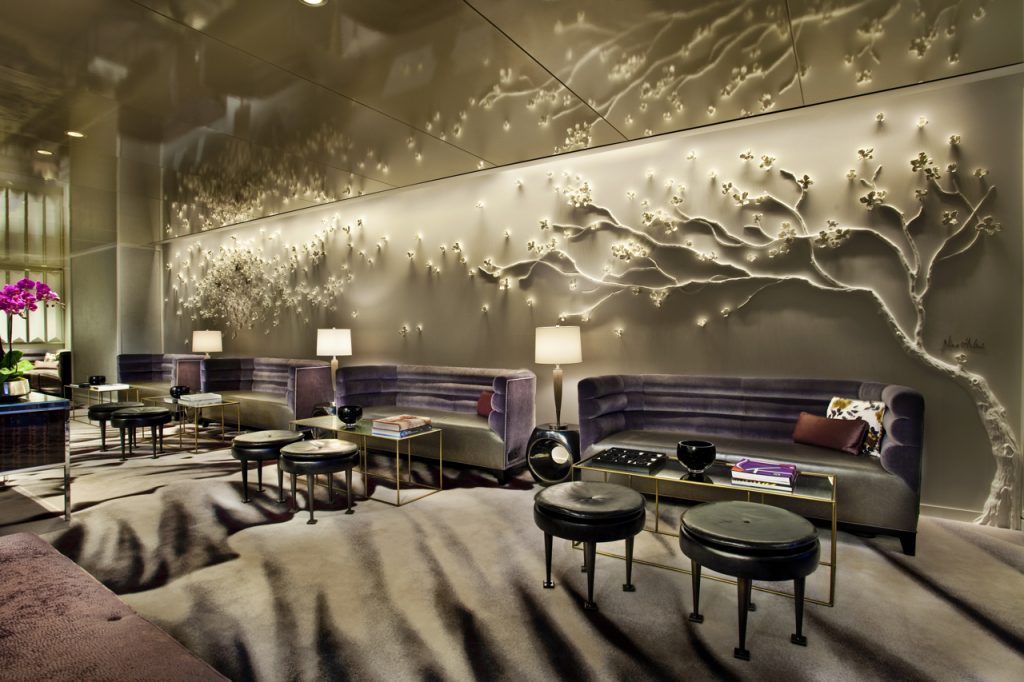 Rooms at the Loews Regency are immediately impressive.  A classy palette of soft silvers and muted teals themed our Grand Executive Suite, which featured a comfortable lounge and reception area, separated from the bedroom by unique frosted French doors, not often seen in hotels.  This design allows a roomy and spacious feel when relaxing, yet gives the option to separate for privacy if taking meetings or dressing for that New York night out.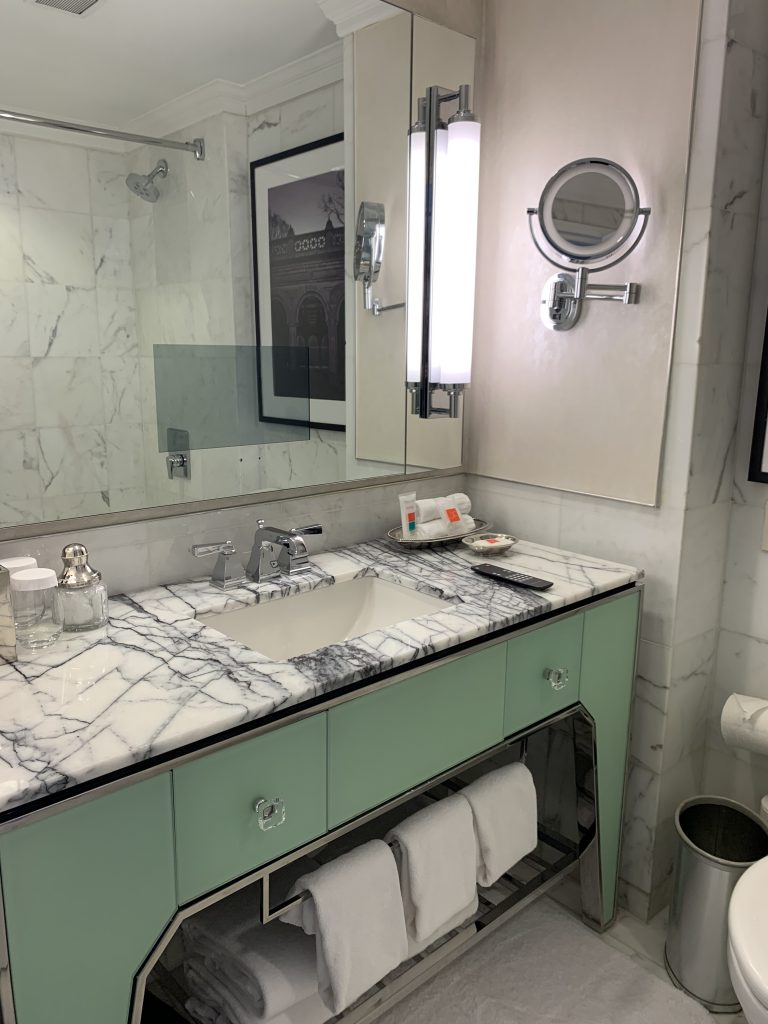 This also boasted two bathrooms which again underlined the convenience a suite like this gives to both hectic or relaxing schedules.  Featuring TVs within the mirrors to complement design aesthetic, the white marble decor here, with aquamarine and sparkling mirrored accents was somewhat reminiscent of neighboring Tiffany & Co's palette, to help craft your iconic New York experience.  Tastefully chosen books dotted the space and two large televisions were visible from all key angles.   This suite felt spacious, yet utilized well, and still comfortable.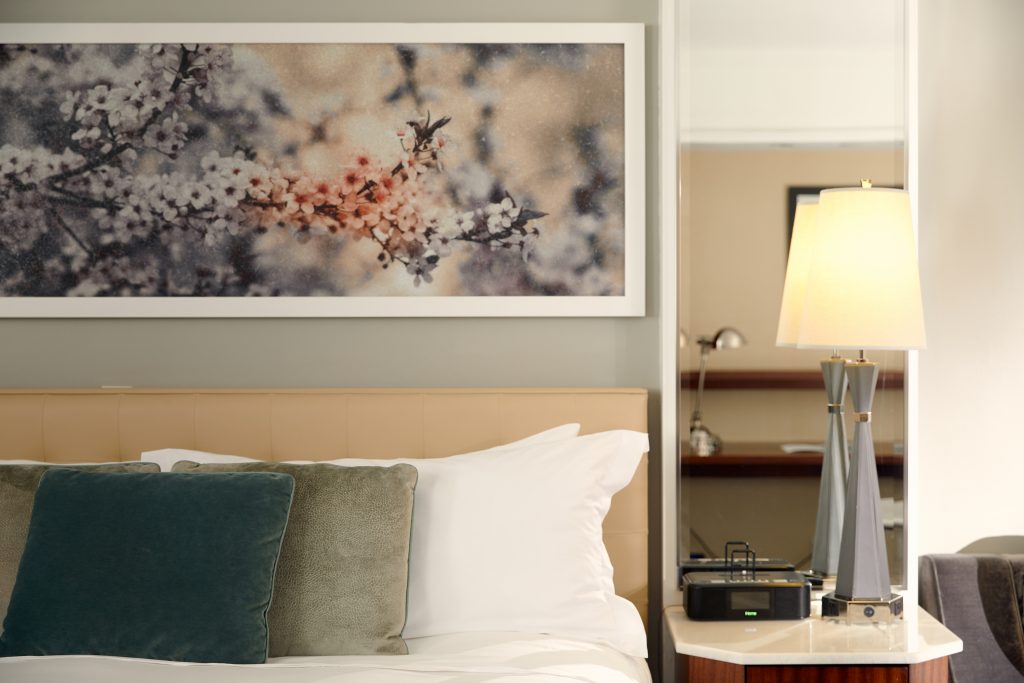 One of the other more distinctive hallmarks of this property is the wide variety of rooms and suites they offer.  Four different layouts of room, and a multitude of suite options are available, and their Signature Residences feature a mix of uniquely designed and classically-themed spaces such as Classic 1970's apartment, Pop Art Suite, or Uptown Bohemian Suite, for something to suit all tastes and luxury budgets.   For a special occasion, or because that's just how you roll, the Regency Residence is a 5,520 square foot apartment with 3 bedrooms, 5 bathrooms and its own mirrored yoga studio within.
The hotel also features a Salon & Spa with services by Julien Farel, and a 24/7 Fitness Centre with varied and perfectly maintained equipment including the popular Peloton Bikes.  The Concierge are also helpful and knowledgable for restaurants and recommendations nearby, but the Loews Flavor program also curates hyper-local culinary and beverage artisans into the resident menus, bringing you creations by partners such as Bon Vivant, Brooklyn Gin and Mah-Ze-Dar.  If you're considering a New-York-Minute for your next trip, you're bound to have a few memorable minutes here.
Photos courtesy of Loews Regency New York.
Photo & video by Darren Darnborough.
Full disclosure: The hotel hosted the writer for a stay.