The City of the Sun and Sea welcomes you to Sunny Isles Beach. An aptly named city that showcases South Florida's glorious weather, pristine white sand beaches and mesmerizing turquoise blue waters. Located just 30 minutes north of Miami International Airport and a quick 10 minutes from Fort Lauderdale, this barrier island sits between the Atlantic Ocean and the Intracoastal Waterway.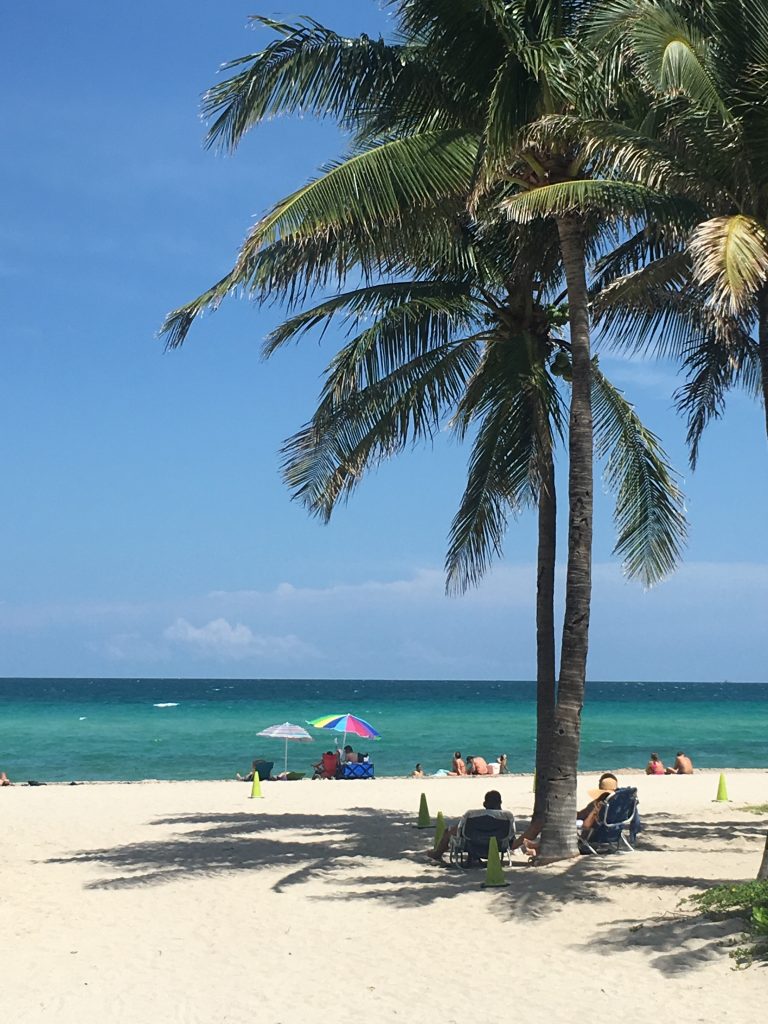 Sunny Isles Beach stretches 2.5 miles along the oceanfront, offering a destination for couples, families and singles alike. What was once home to two story budget motels is now filled with sleek, contemporary high rises and luxury resorts that line the Atlantic Ocean beachfront. Exclusive brands have a presence on bustling Collins Avenue including Residences by Armani, Porsche Design Tower Miami and Forbes 5 Star award-winning Acqualina Resort and Spa along with their Mansions at Acqualina and the Estates at Acqualina, currently being built.
The Ambience
Art and design is everywhere in Sunny Isles Beach. You will find it in the skyline of buildings, artwork in hotels and restaurants, in the children's fountain and playground and of course, in the culinary scene.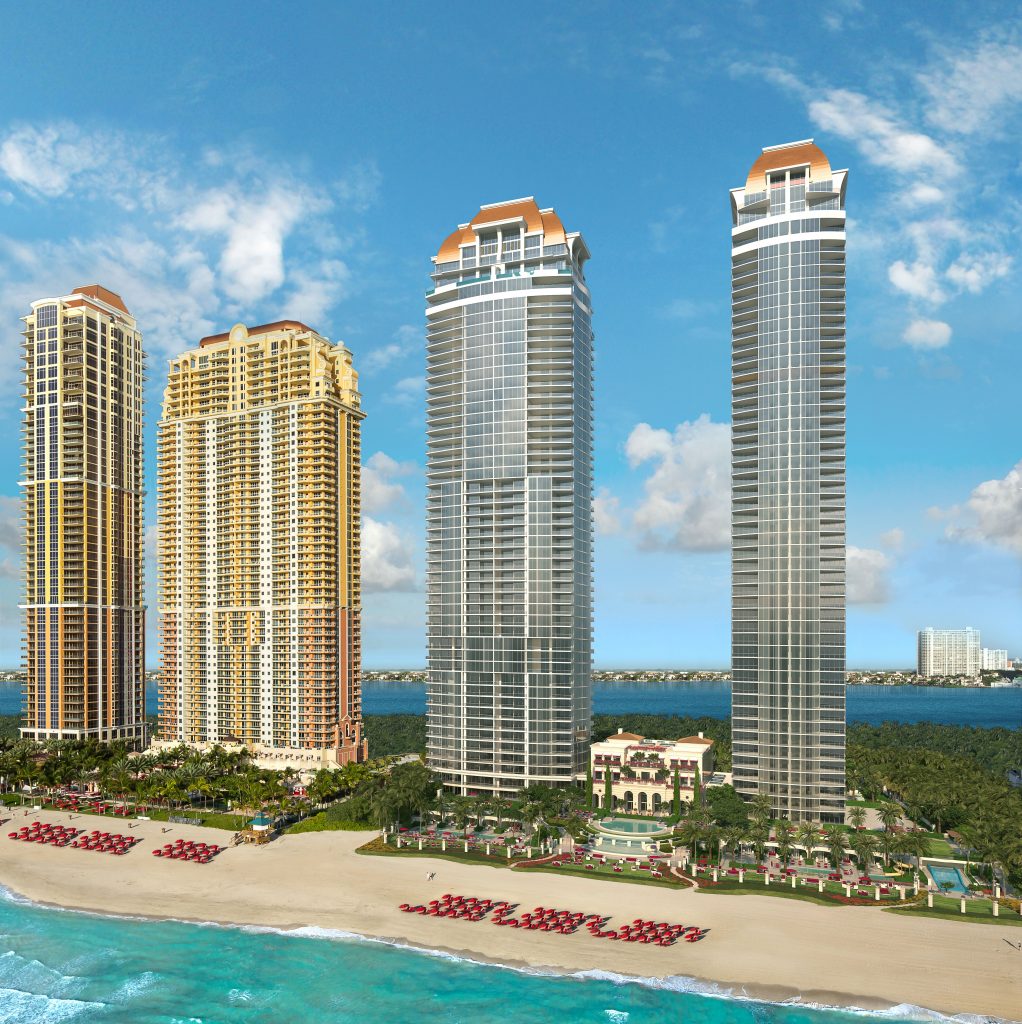 (Photo courtesy of Acqualina Resort and Spa) 
Vacationing in Sunny Isles Beach means you have the best of both worlds. You are in close proximity to Miami's vibrant, eclectic lifestyle with a wealth of trendy nightclubs and the Art Deco District while still being able to relax on the peaceful beaches of Sunny Isles. This coastal living community offers luxury residences and opulent resorts with over the top amenities to enhance your relaxation.
There is a calm to this city that is felt in the warmth of the people, the innate sense of security and the cleanliness of the streets and parks. It's an easily walkable town with a free shuttle service available to destinations in the area.
Shopping Mecca
This upscale community has this topic covered with premier destinations for visitors and locals.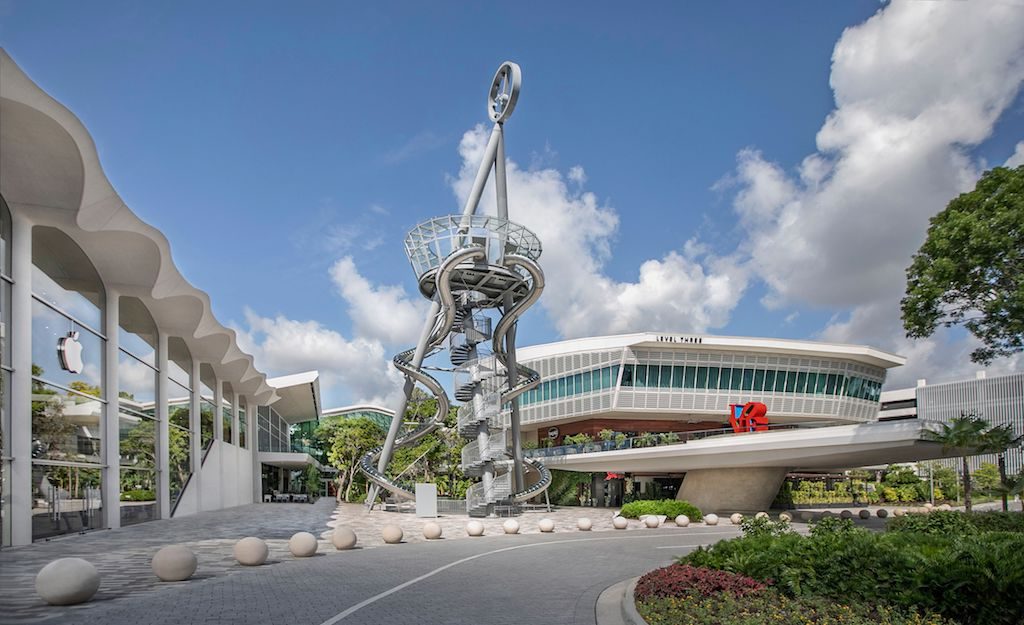 (Photo courtesy of Aventura Mall)
Just a short drive over the waterway is the second largest indoor mall in the country. With over 300 shops from luxury to everyday favorites, 50 restaurants, an extensive museum quality Arts Aventura Mall collection, a unique public work designed specifically for the Mall by the Haas Brothers called "Gorillas in the Mist" and a 24 screen AMC Movie Theater, there is something for everyone.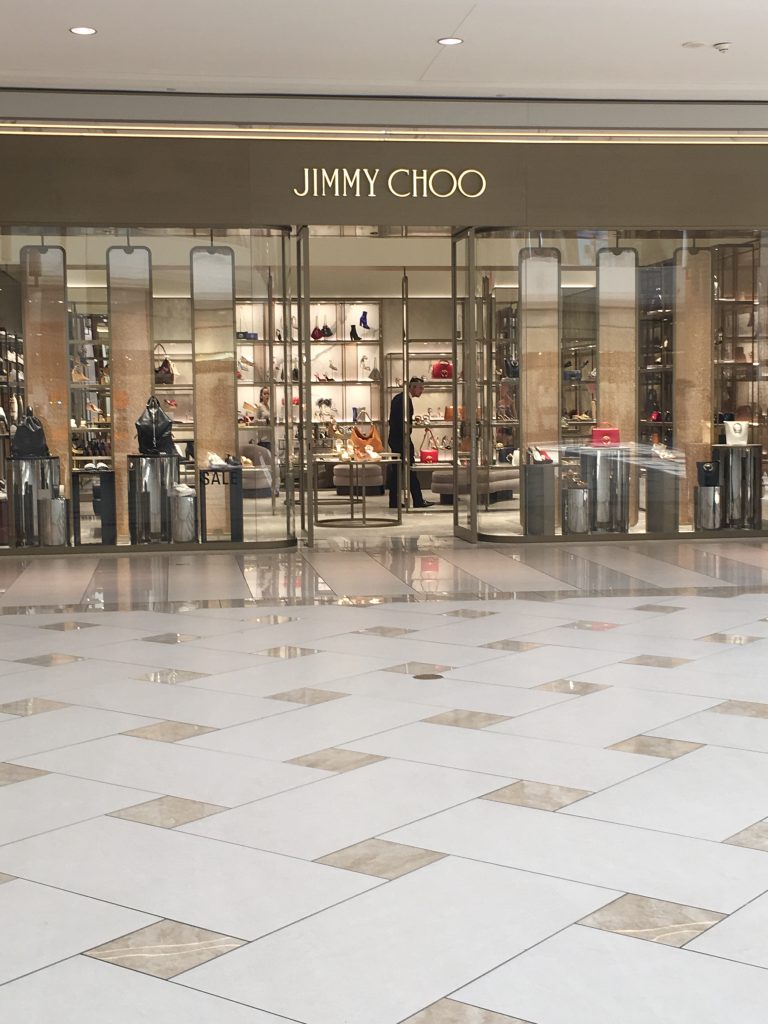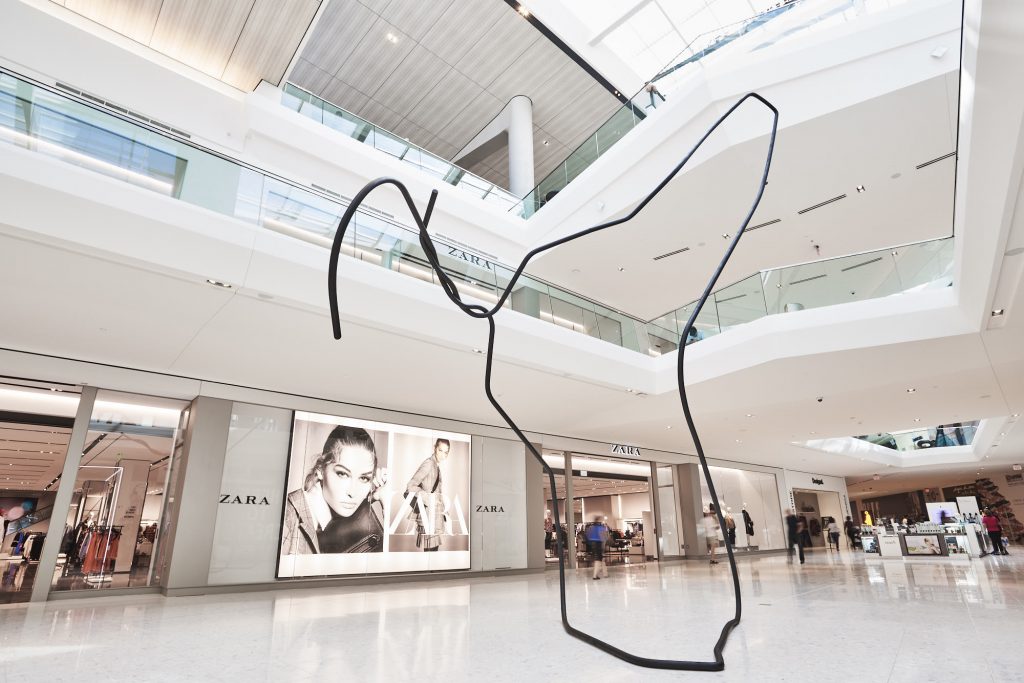 (Photo courtesy of Aventura Mall)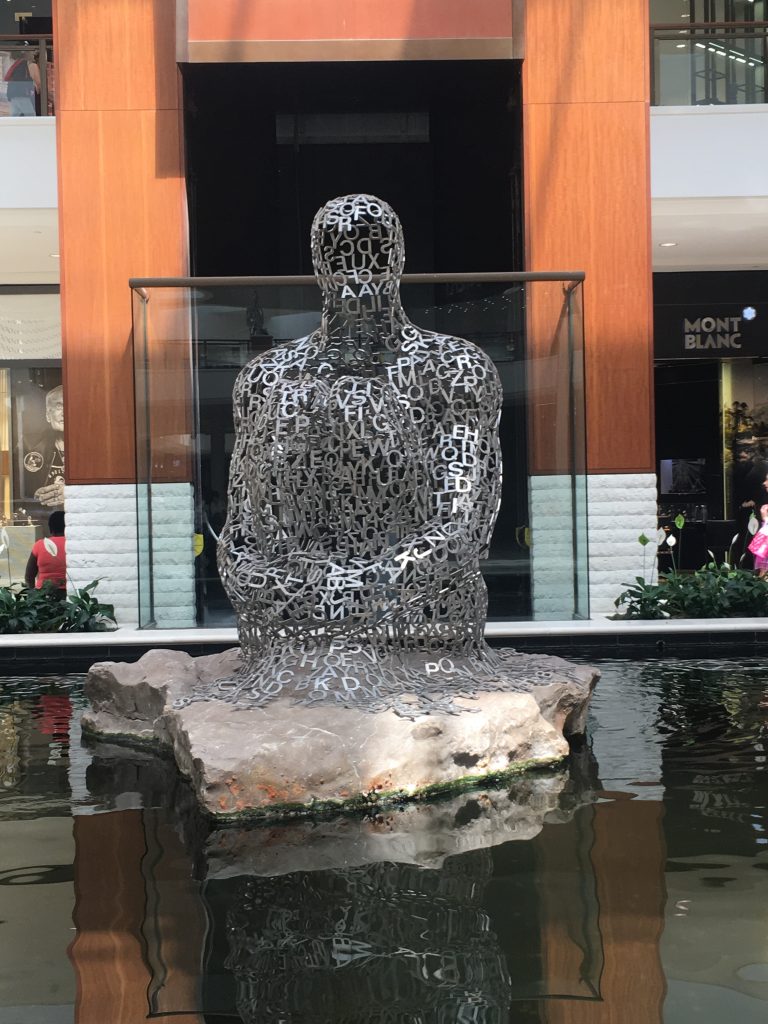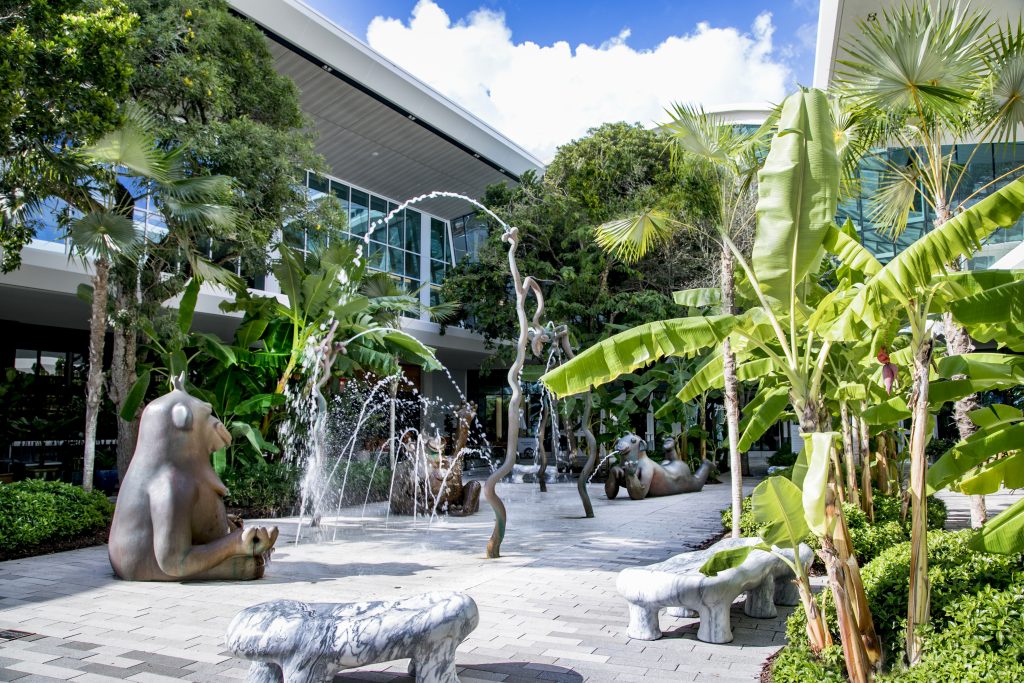 (Photo courtesy of Aventura Mall)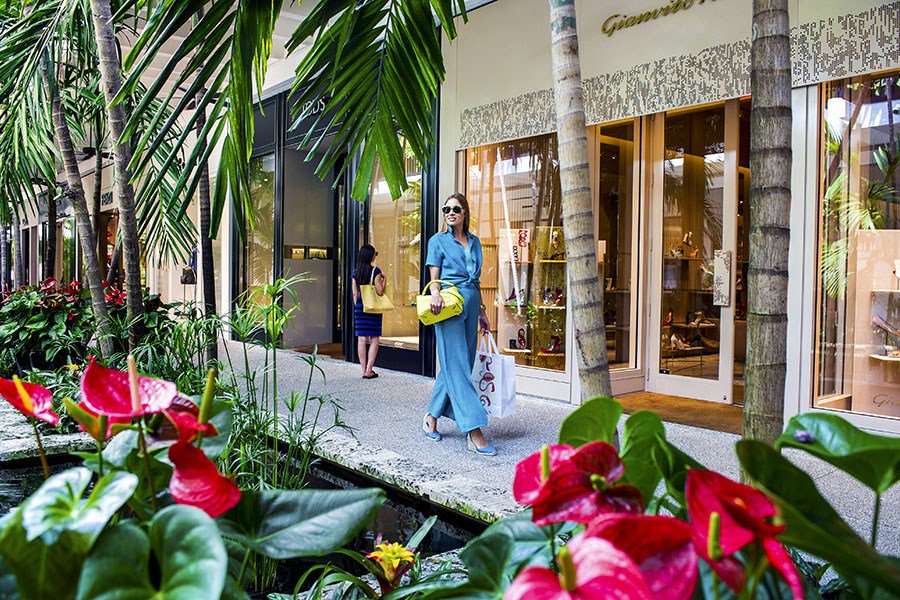 Elegant. Sophisticated. "Shopping Hall of Fame". All describe the more than 100 stores that surround the outdoor, tropical garden at the Bal Harbour Shops. This exclusive destination is known for its internationally recognized, high-end designers and retailers including Balmain Paris, Chanel, De Beers Jewellers and Neiman Marcus.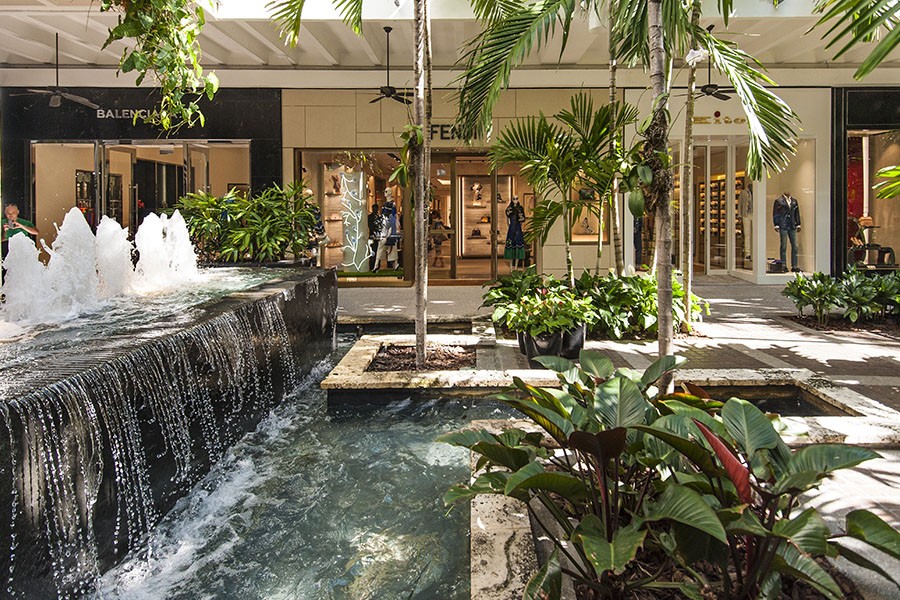 (Photos courtesy of Bal Harbour Shops)
Bask in the Florida Sunshine
Parks
Enjoying the tropical weather of Sunny Isles Beach means having a wealth of outdoor activities to choose from. The city takes its role very seriously in building and maintaining all of its parks. The designs of the more than 10 different landscaped areas are conducive for everything from relaxing to exercising to playgrounds to concerts to special events. Try Yoga Under the Moon or the Outdoor Concert Series at Samson Oceanfront Park. The parks are also a gathering spot for the community to create neighborly and family activities.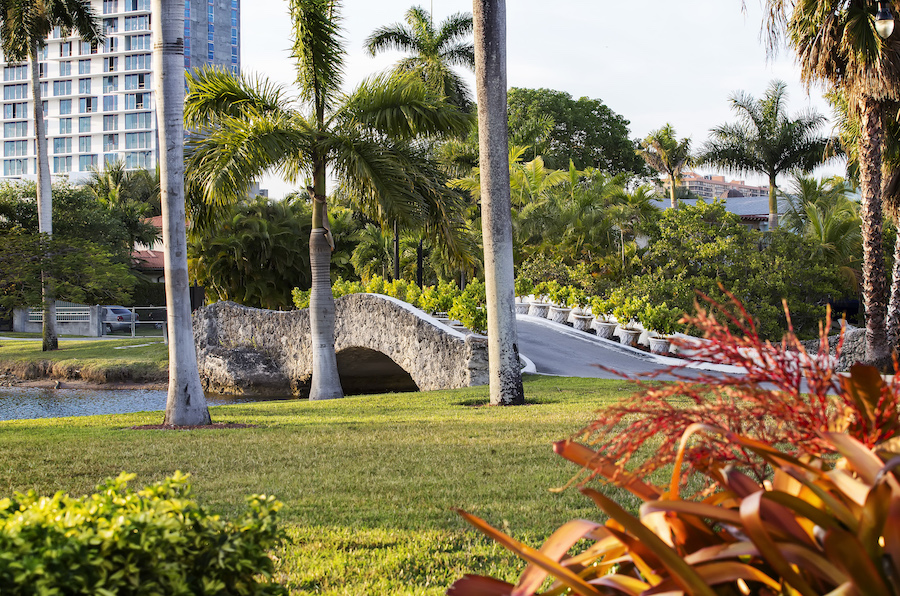 Want to re-live a bit of your childhood? Choose a fun, vibrant colored kite to fly in the park.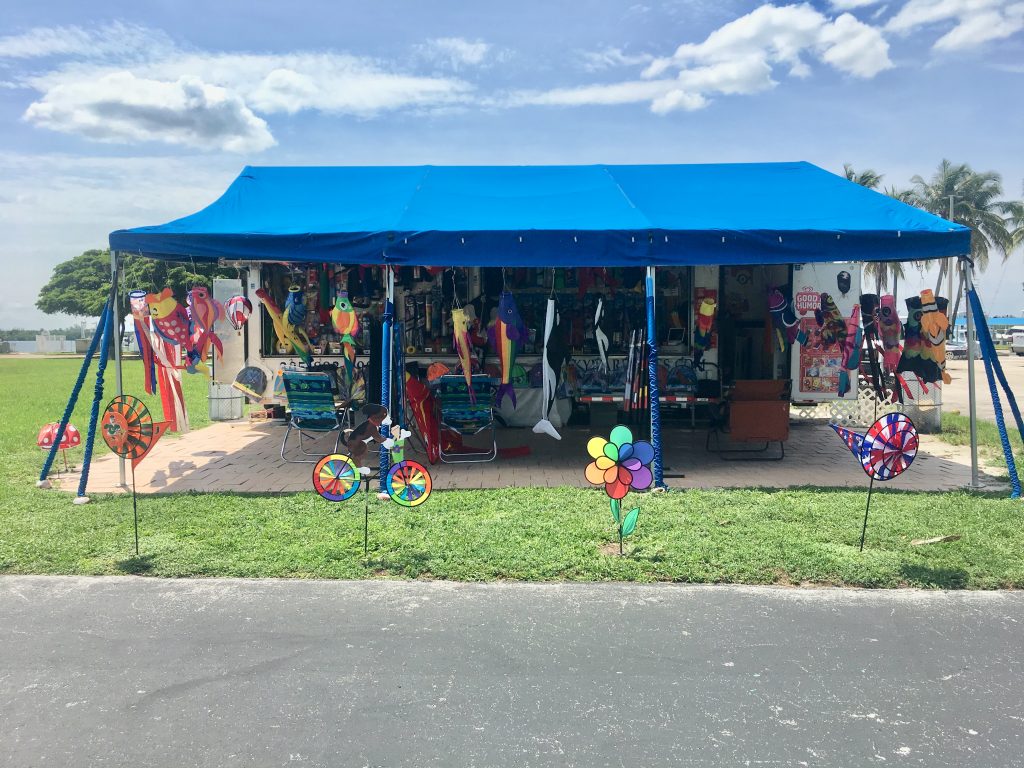 The Water
Feel like doing something on the water like jet skiing or fishing? Stop by Newport Fishing Pier, the only public fishing pier in Miami-Dade County. Located just off Collins Avenue, the pier is open every day of the year with a small ticket price to fish or hang out on the pier while enjoying the views of the Atlantic Ocean. There are many amenities including a beach bar restaurant, restrooms, showers, beach access with lifeguard station, bike racks, metered public parking and community shuttle service available to ticket holders.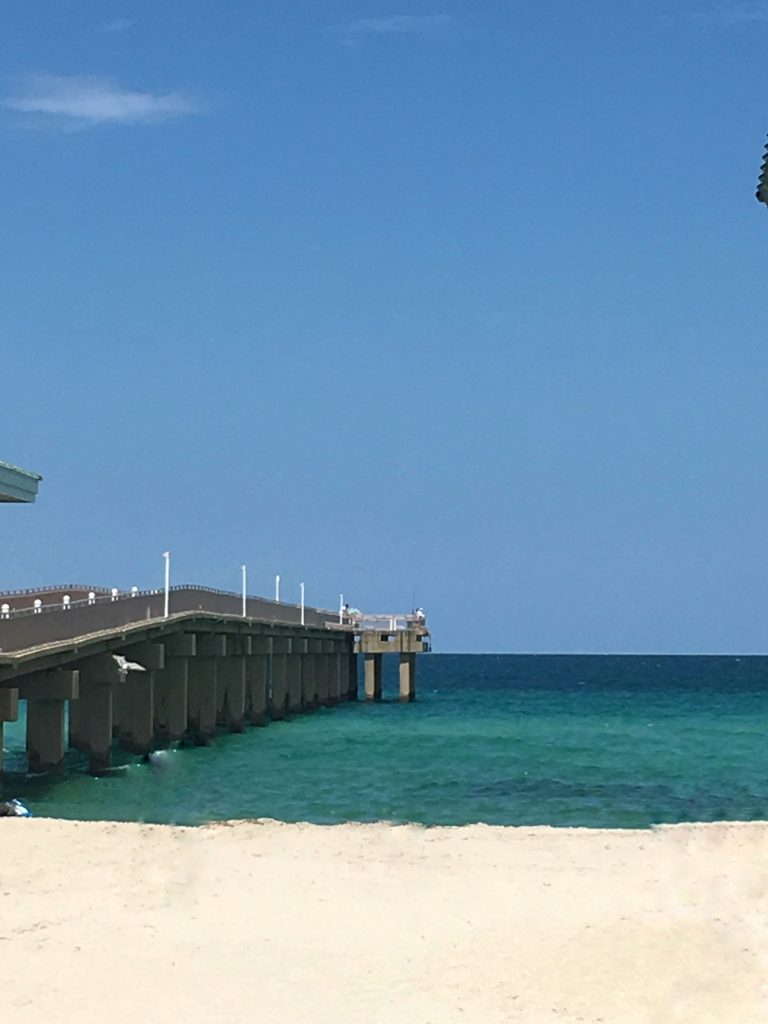 If fishing out in the ocean is your goal, head to Haulover Beach Park and Marina to go deep sea fishing on charters or rent a boat (with/without a captain) to spend time on the water.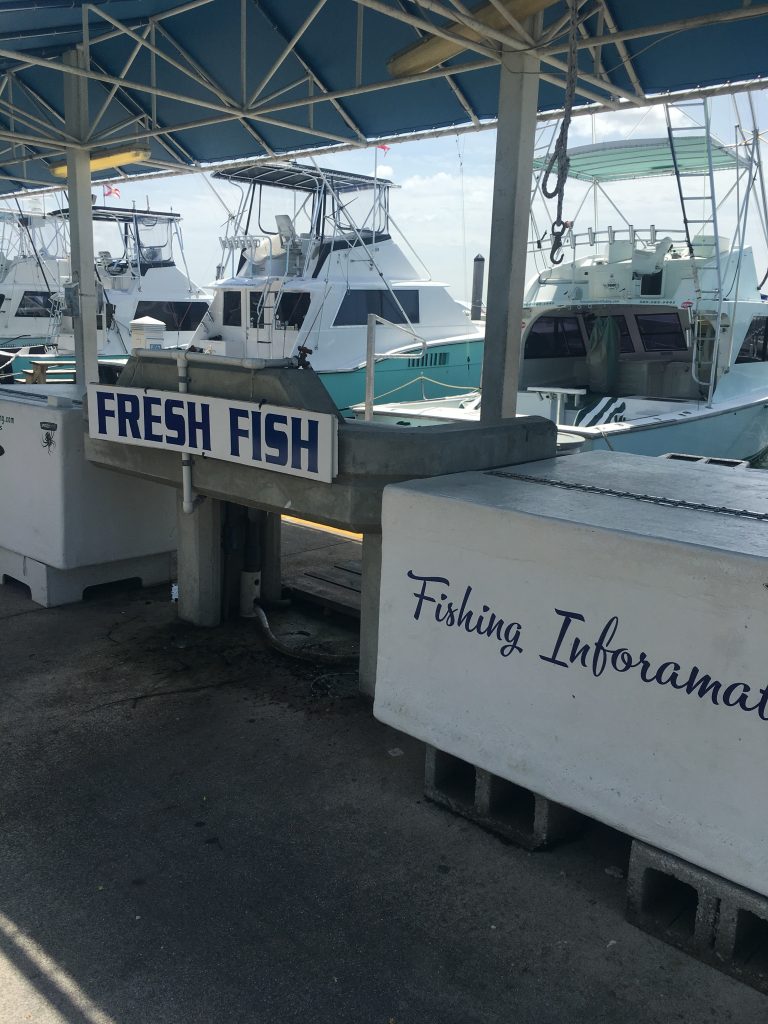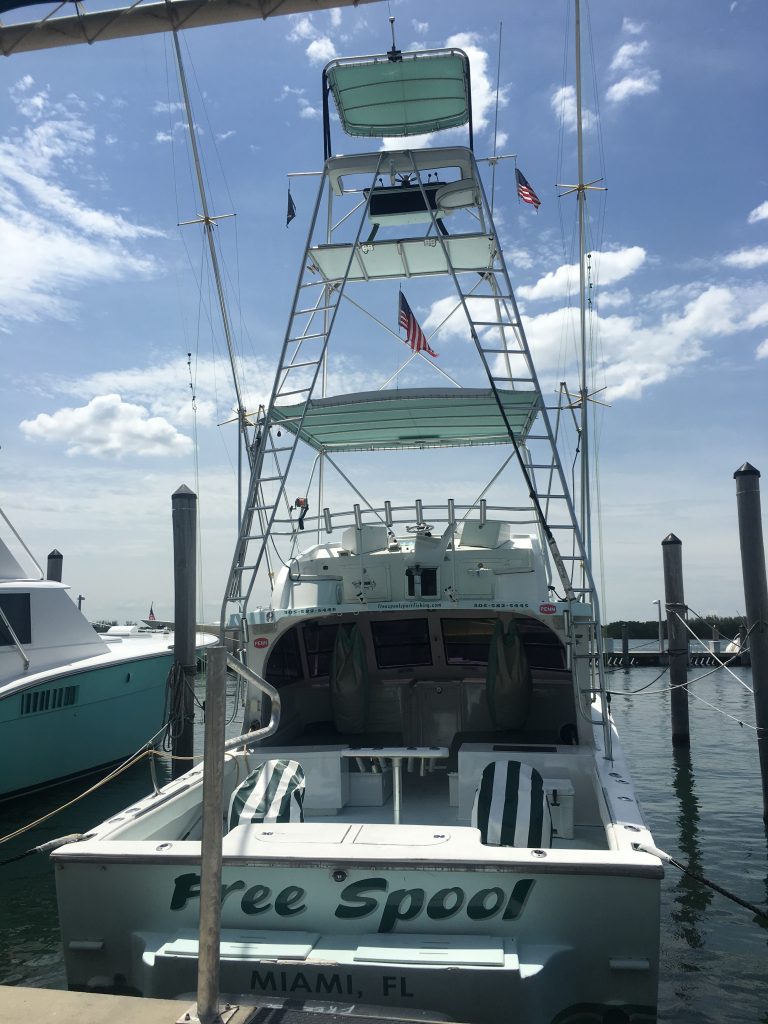 Where to Stay
With luxury hotels lining Collins Avenue in Sunny Isles Beach, each just steps from the ocean or Intracoastal Waterway, your choices are many.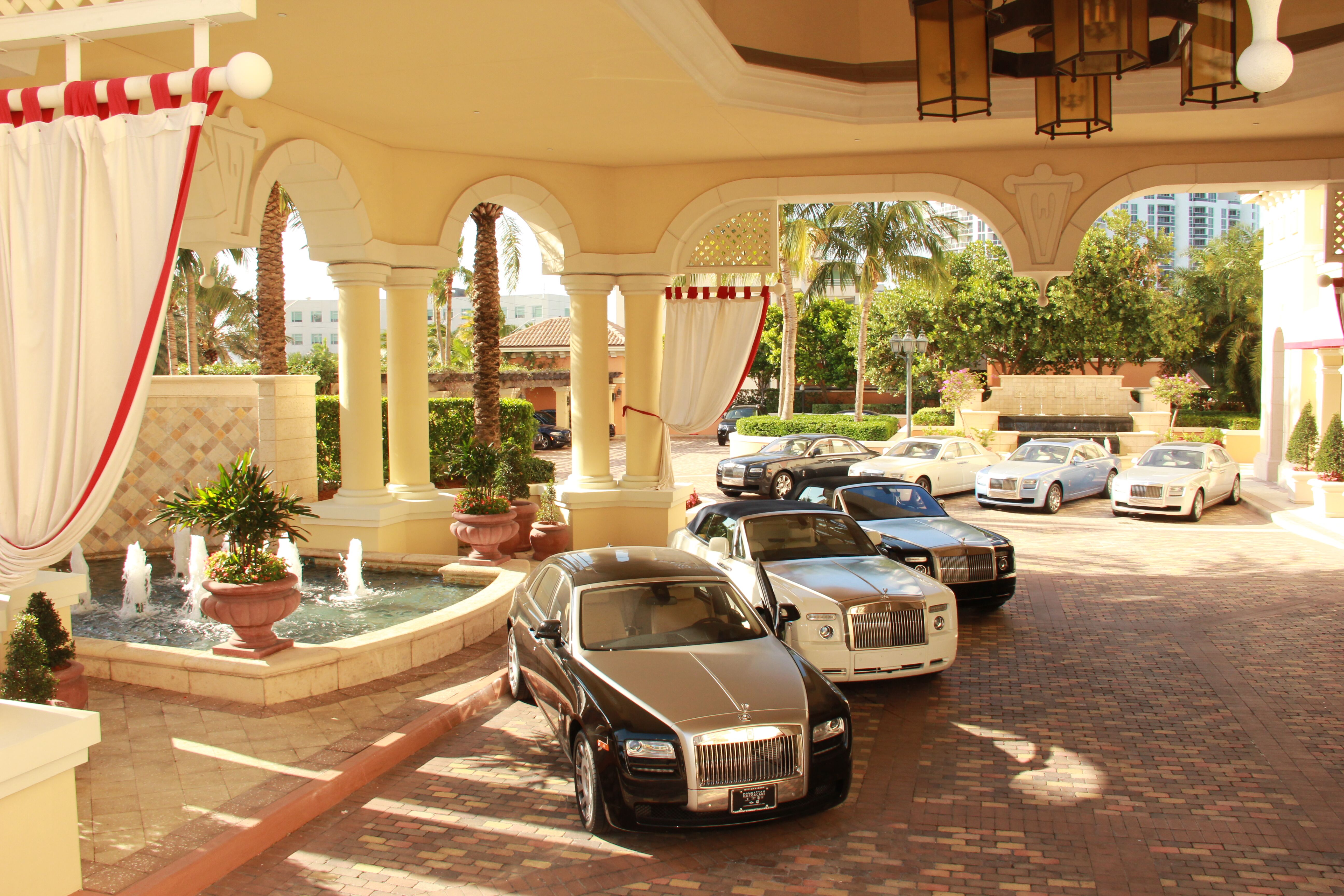 (Photo courtesy of Acqualina Resort and Spa)
The only AAA 5 Diamond, Forbes 5 star resort in Sunny Isles Beach that is continually recognized for outstanding customer service. With resident owned Roll-Royce sedans framing the entrance to the resort, this property offers both hotel and residential living opportunities. Stunning architectural design that welcomes guests to its Mediterranean inspired lobby which flows into a modern art filled property with furnishings to match. Along with beautiful interior design comes a waterfront oasis complete with 400 square feet of unobstructed (no boardwalk!) white sand beach bordered by the intricately landscaped grounds. The Aqualina is a luxury resort that aligns art, architecture and lifestyle with extraordinary customer service.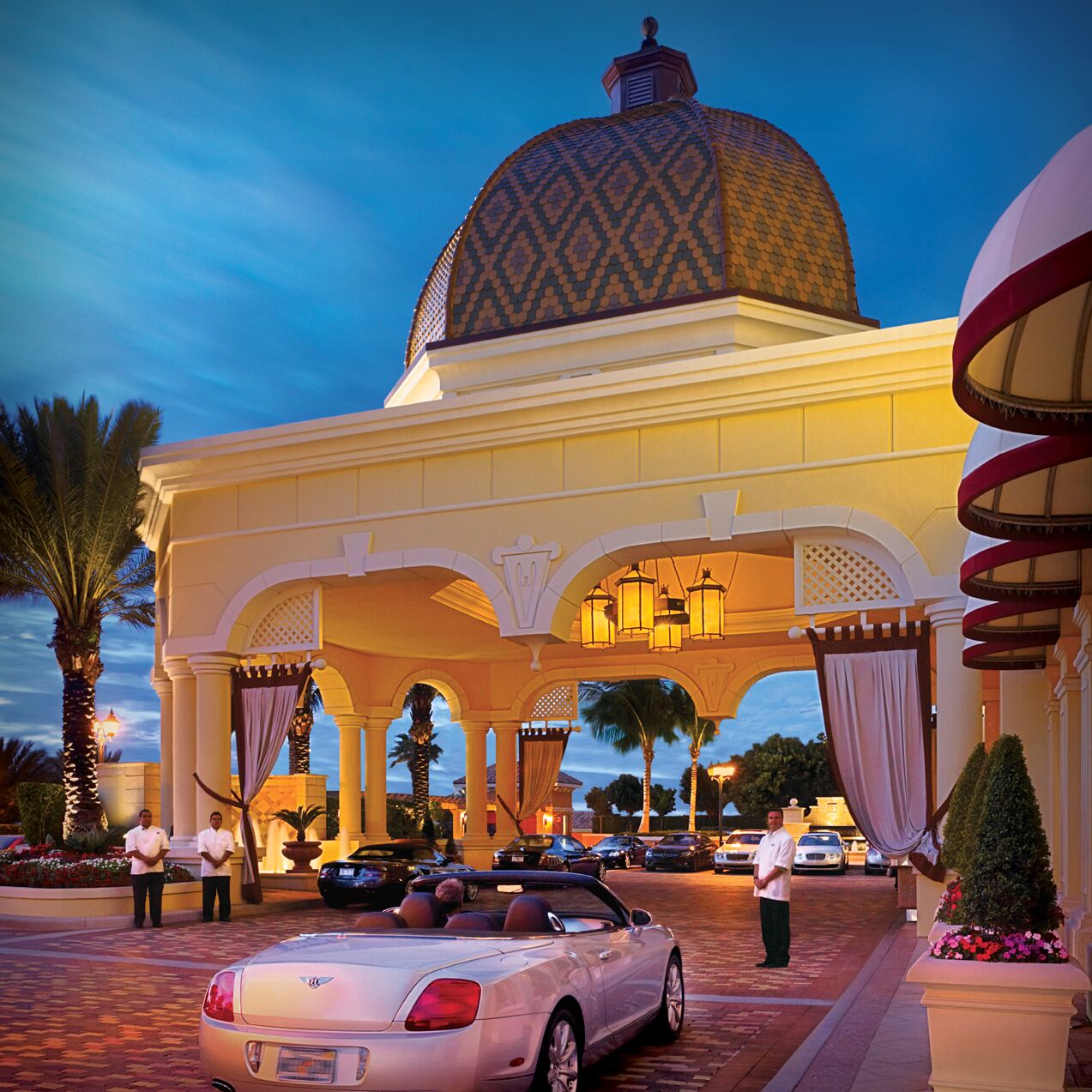 With just four doors per floor and 98 rooms/suites total in the hotel portion of the property, the views of the Atlantic Ocean and Intracoastal Waterway are breathtaking. Luxurious decor, a calming gray color palette and details that make the suite feel like home, in conjunction with a balcony that overlooks the water, gives a sense of peace to your stay.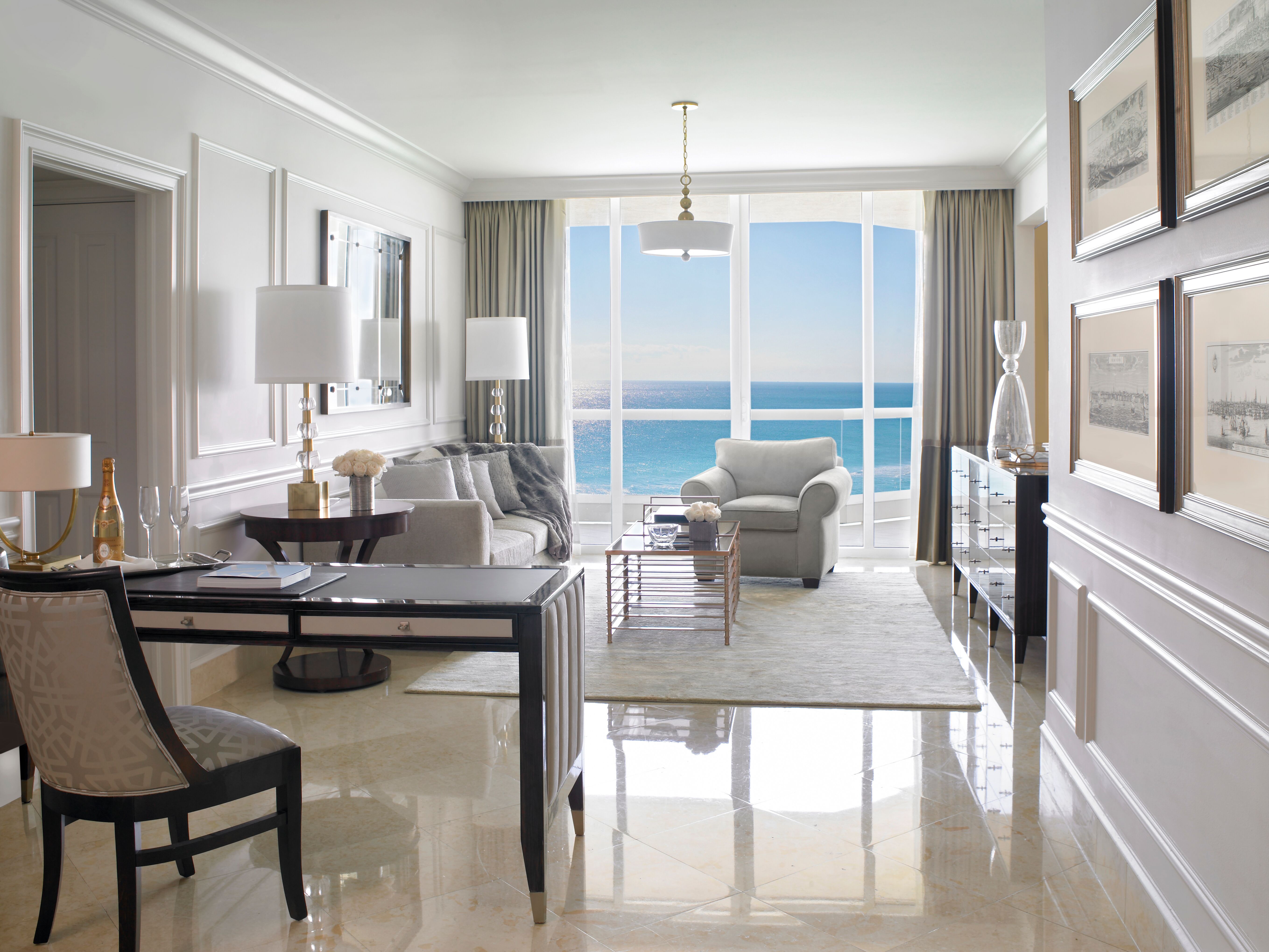 A full selection of amenities are available at the Acqualina Resort and Spa. They include the award winning Acqualina Spa by ESPA, the AcquaMarine Program focused on a variety of children's activities and education, a Bedside Reading Program created in partnership with publishing houses, and a curated collection of lifestyle offerings around Miami.
The trademark red seating, cabanas and umbrellas on the lushly landscaped beachfront, along with the four pools, white sand and turquoise water are picture postcard perfect. Add to it the beach butlers who make sure your every need is met, make this the spot you want to be.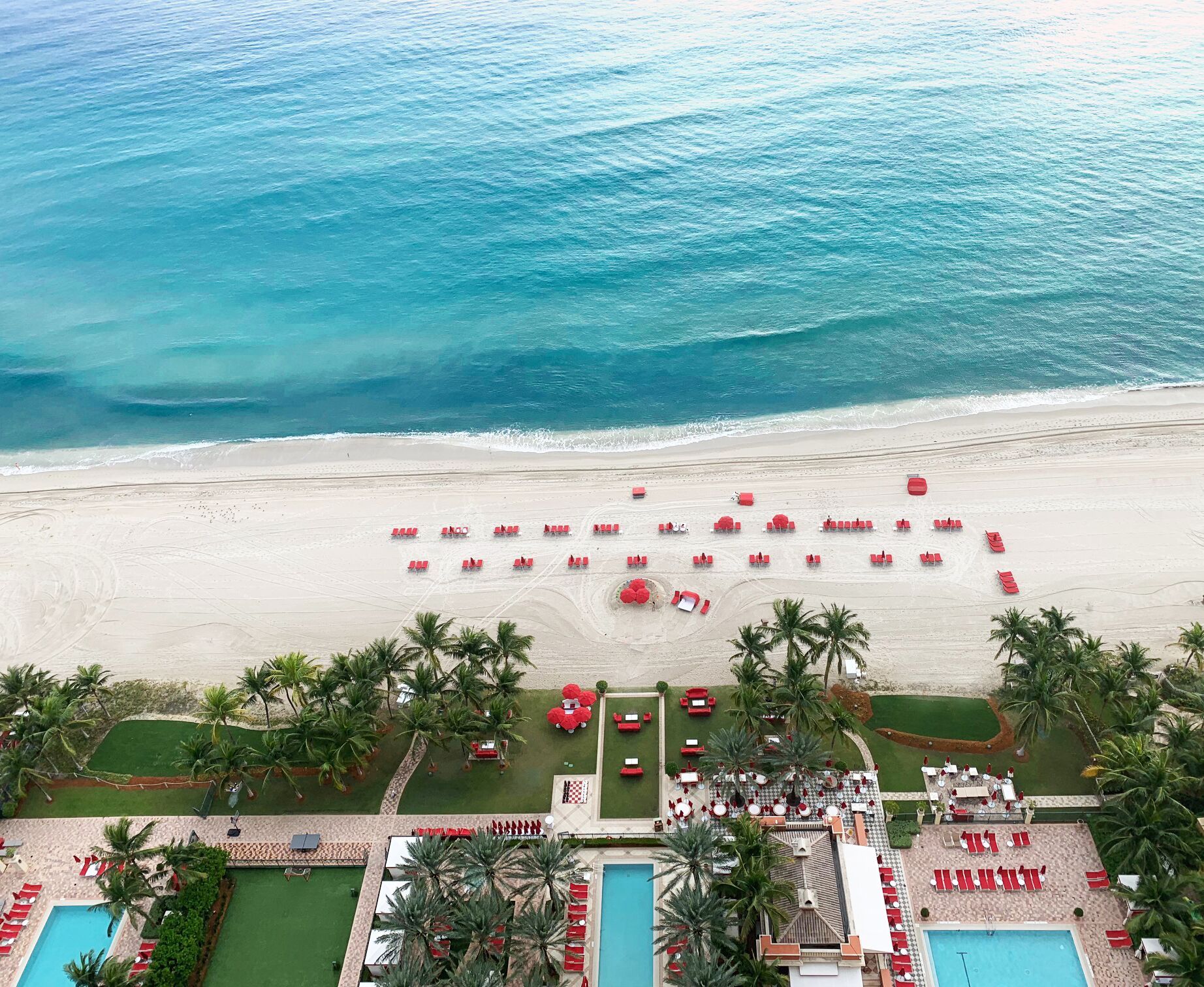 (Photos courtesy of the Acqualina Resort and Spa)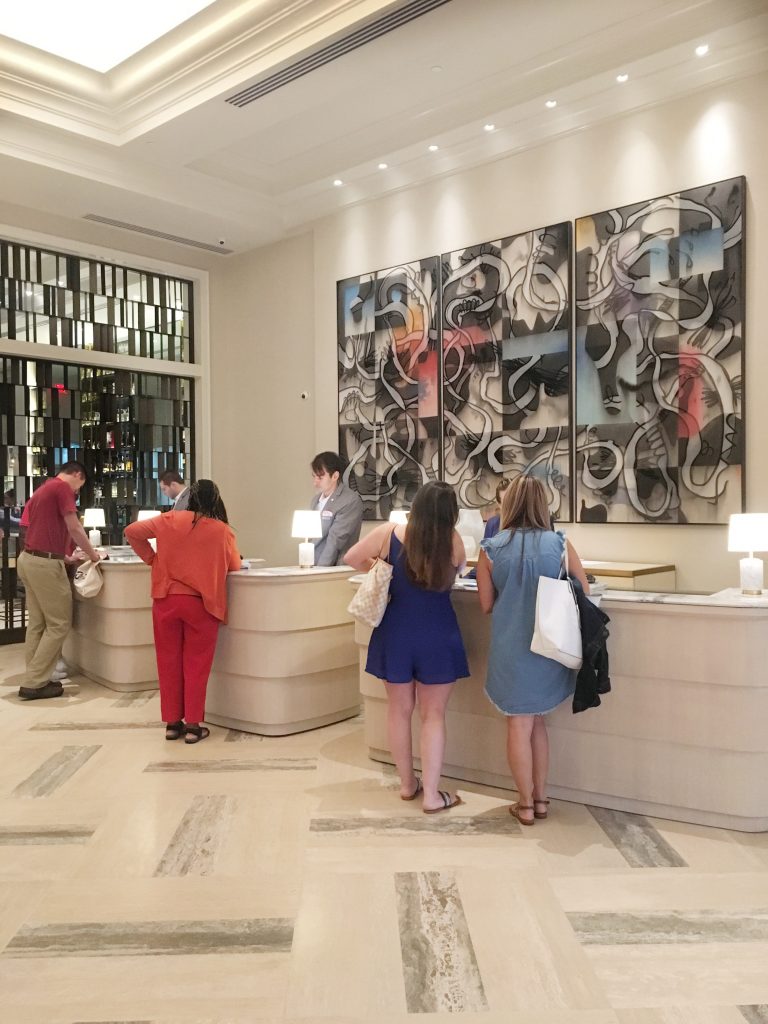 Who ever thought that creating a residential community on a cocktail napkin that would one day turn into a world class luxury resort had to be a visionary. That's exactly what the founder of the JW Miami Turnberry Resort and Spa in Aventura, Florida, did with this sprawling property.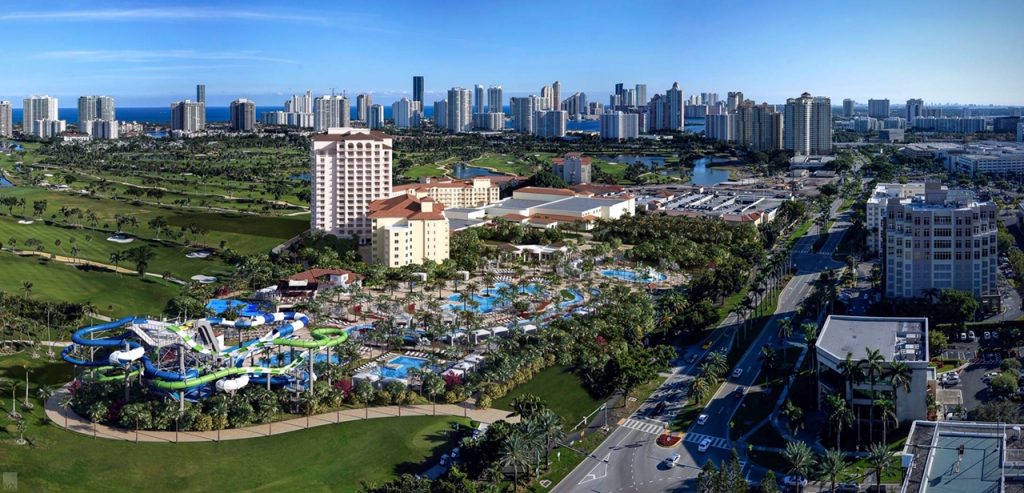 (Photo courtesy of JW Turnberry Miami)
Just 12 miles north of Miami, the JW Miami Turnberry has over 600 rooms with a guest list that includes individuals, couples, families, girls' trips, golfers, business travelers and conference attendees. The interior ambience is open and airy with contemporary design and artwork throughout the lobby while a tropical landscape surrounds the building and pools.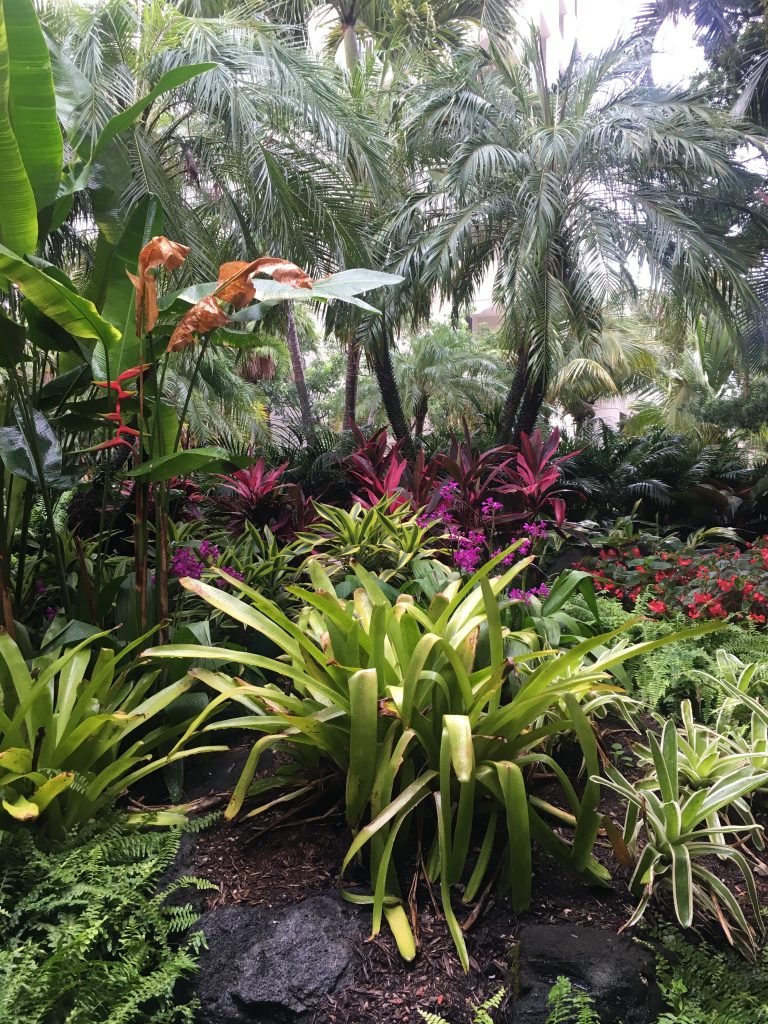 Amenities abound with two championship golf courses, five acre Tidal Cove waterpark, six pools, Turnberry Kids Program, âme Spa & Wellness Collective, six restaurants and lounges, 120,000 square feet of conference/event space, a marina on the Intracoastal Waterway and beach access. In fact, the resort was named to Travel + Leisure's "World's Best Resorts" list.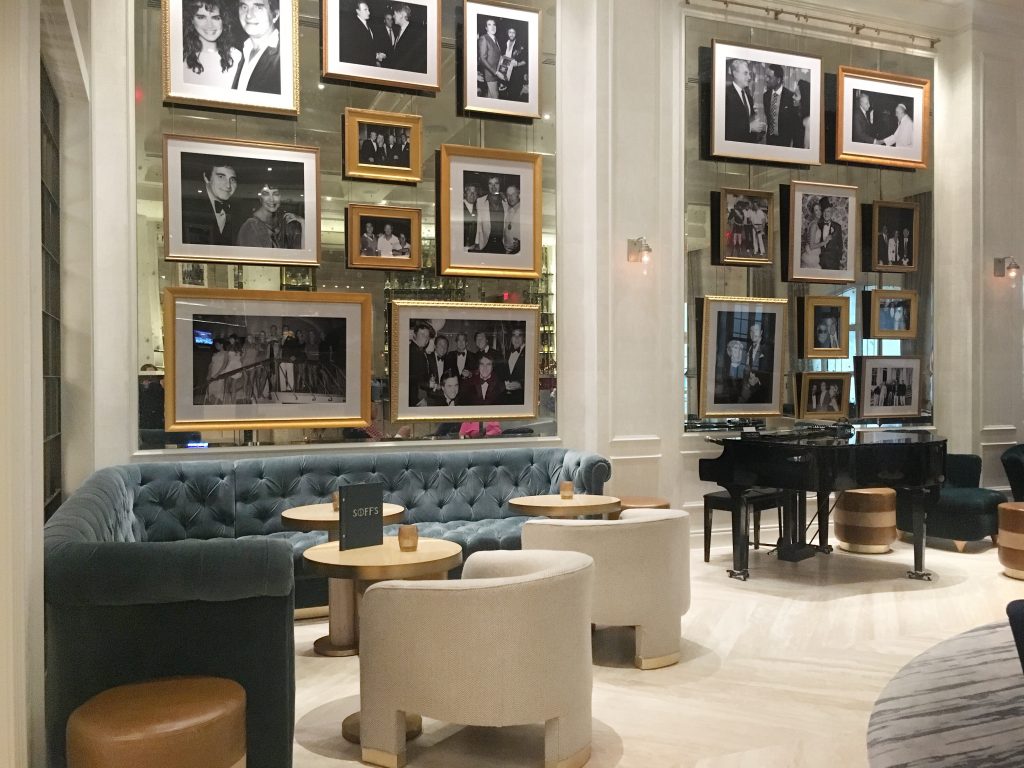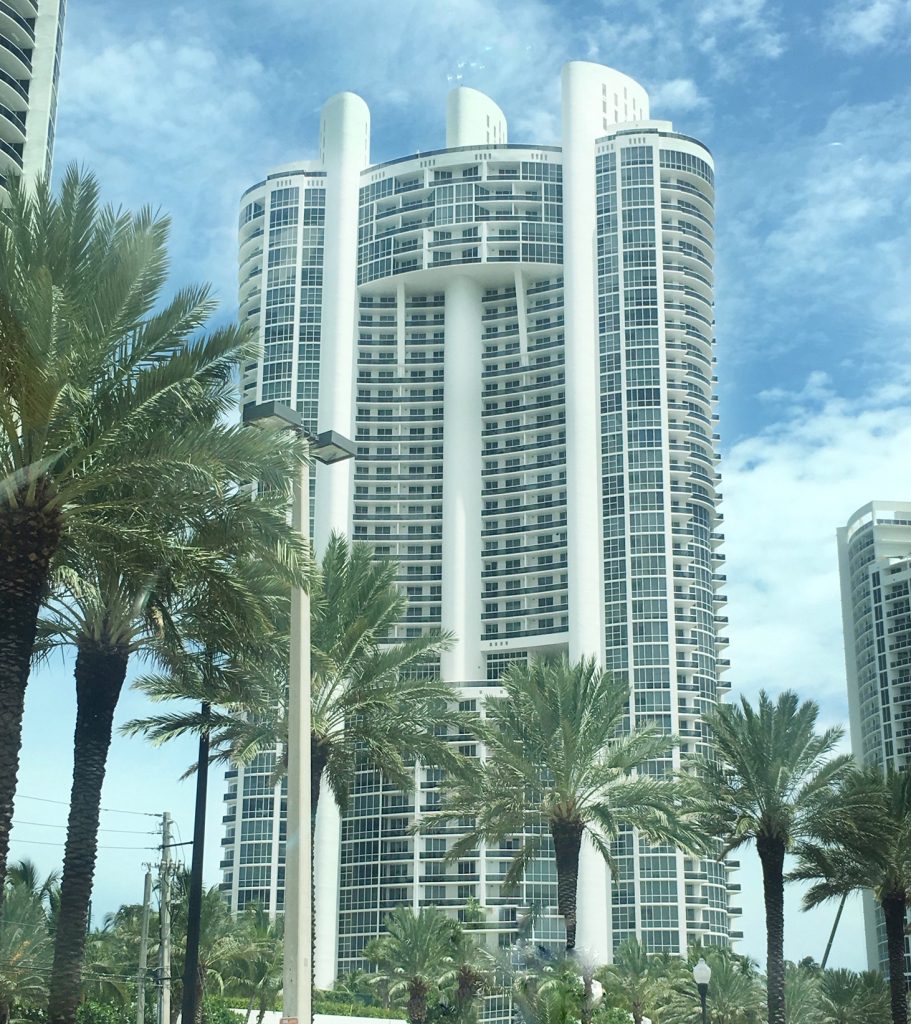 A contemporary 31 story high rise facing the Atlantic Ocean offering a coastal ambience. Independently owned, this Forbes Four Star-rated luxe property has both individual guest rooms as well as suites with private balconies overlooking the ocean.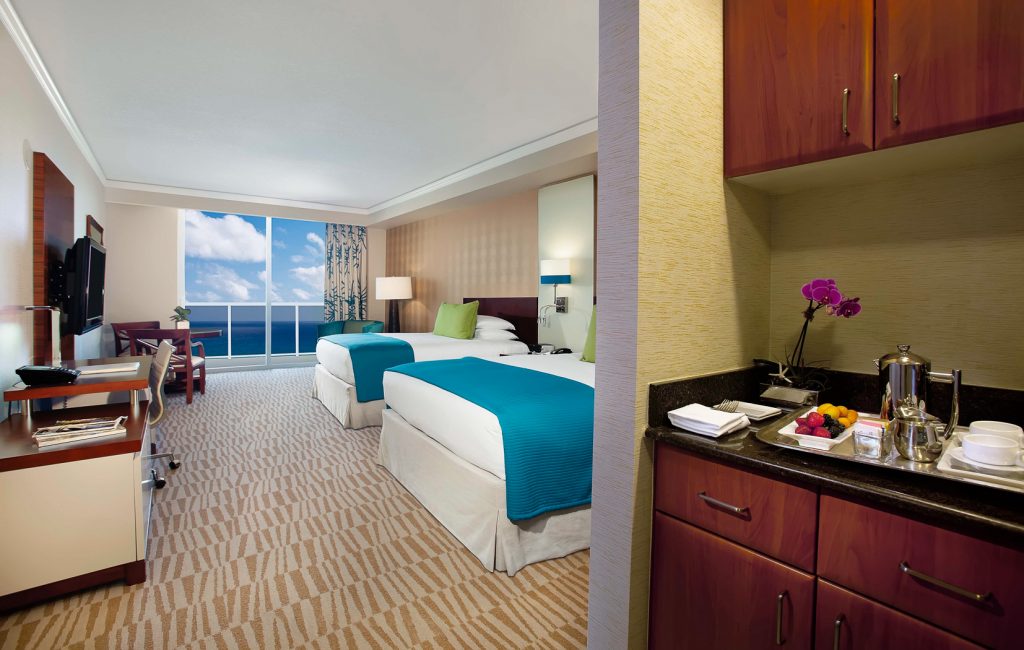 Activities for adults and kids include oceanfront pools, the newly renovated Aquanox Spa & Fitness Center featuring holistic services to relax, rejuvenate and restore and Planet Kids program that teaches an "Enviro-Adventure" curriculum.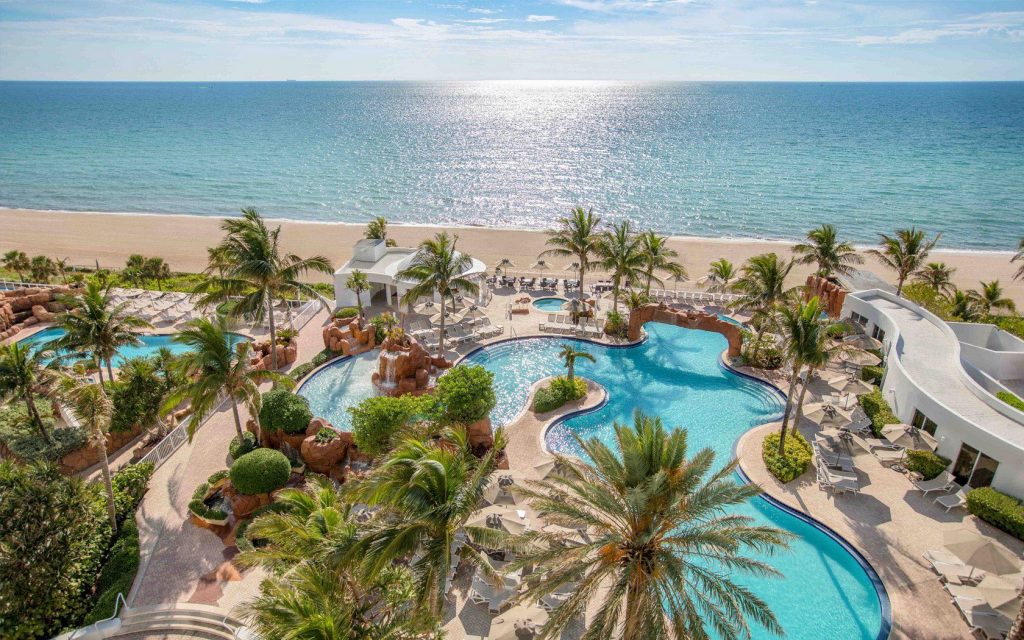 (Photos courtesy of Trump International Beach Resort Miami)
Dinner and Drink in Sunny Isles Beach
While Sunny Isles Beach may be a small community, their culinary scene is one to watch and explore. Local, national and international chefs as well as celebrity chefs have a strong presence in this city.
Food is fresh, inventive, seasonal, Florida local and plated with presentation in mind. From smoothies to full on steak dinners, your options are extensive. Here are six recommendations to start your culinary journey in Sunny Isles Beach.
A true neighborhood restaurant that has a passionate following. An Italian menu with a Mediterranean twist that Chef Tim Andriola has perfected. Dishes are filled with the richness of a homemade marinara sauce or scallops so beautifully presented you need to just take in the plate before eating every last one.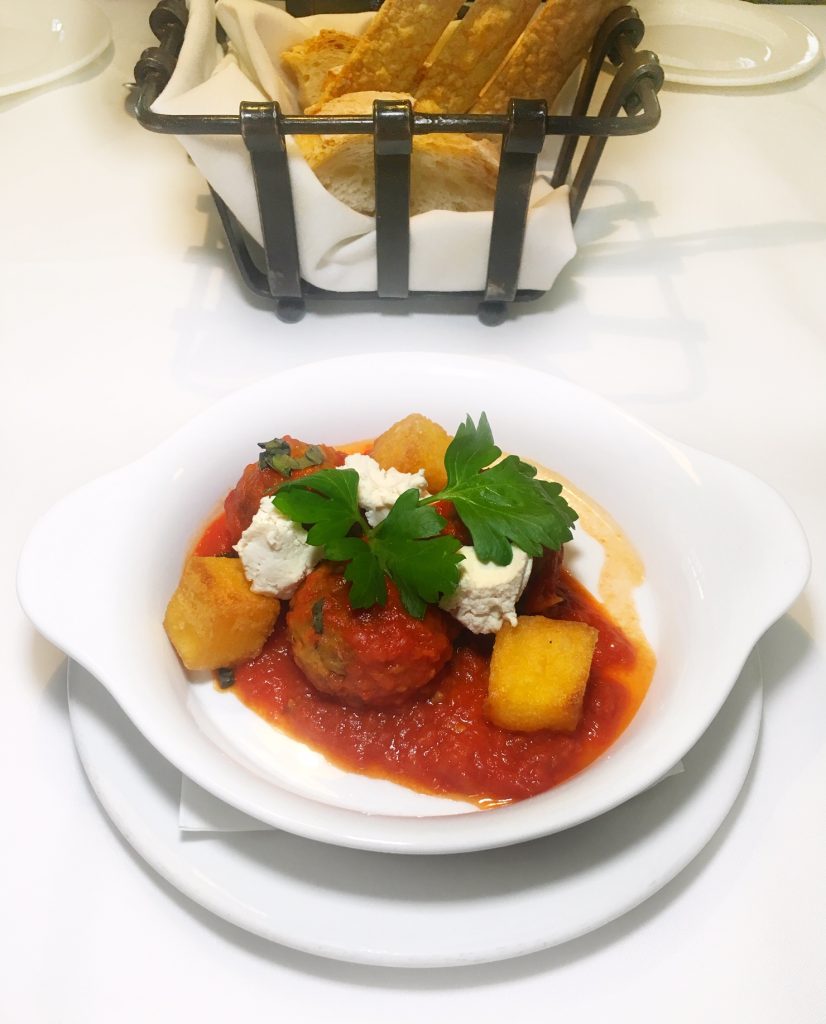 Eggplant meatballs baked in San Marzano Tomatoes with polenta and almond ricotta cream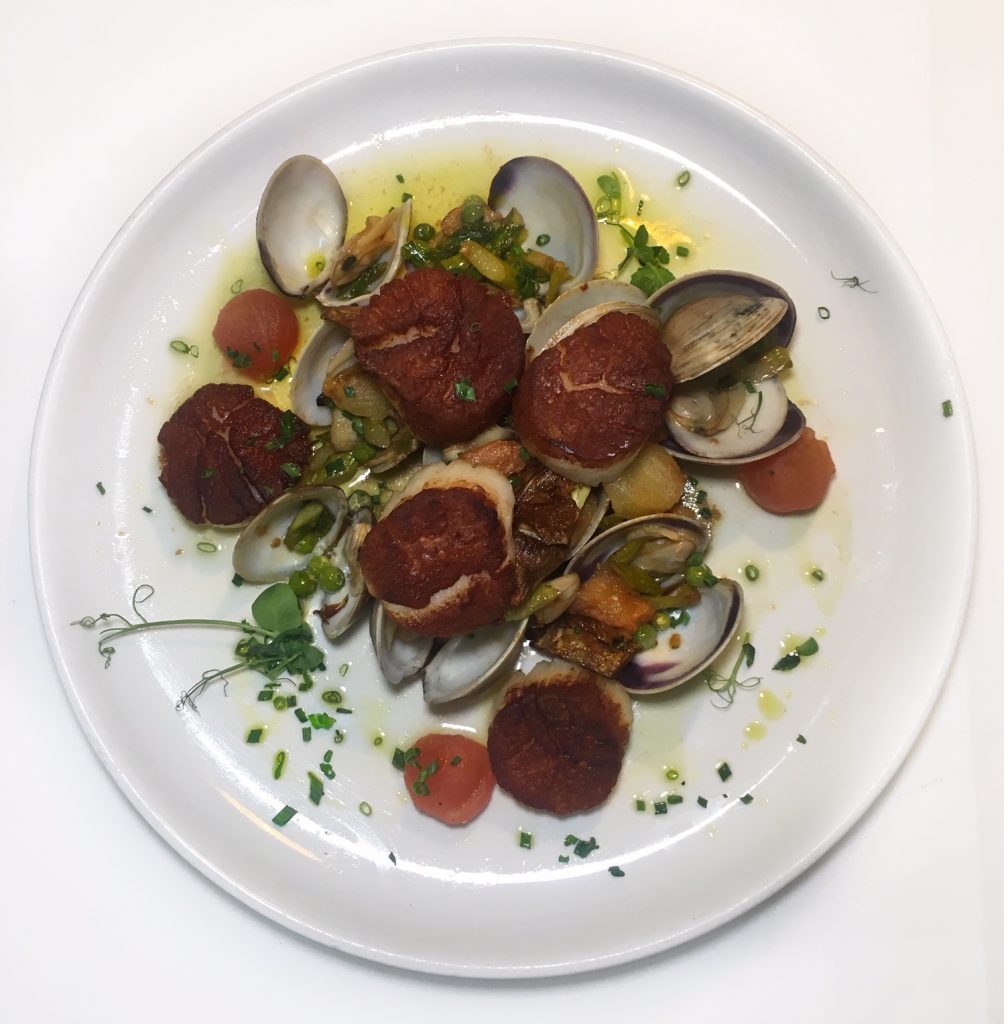 Pan seared sea scallops with baby artichokes, preserved lemon and little neck clam vinaigrette
A visit to Aventura Mall is an obvious must, not only for the incredible shopping and art, but to also experience the difference between American Barbecue and international Barbecue at International Smoke. Celebrity Chef Michael Mina and Ayesha Curry's collaboration is where you will learn how fire and smoke elevates BBQ dishes you thought you knew.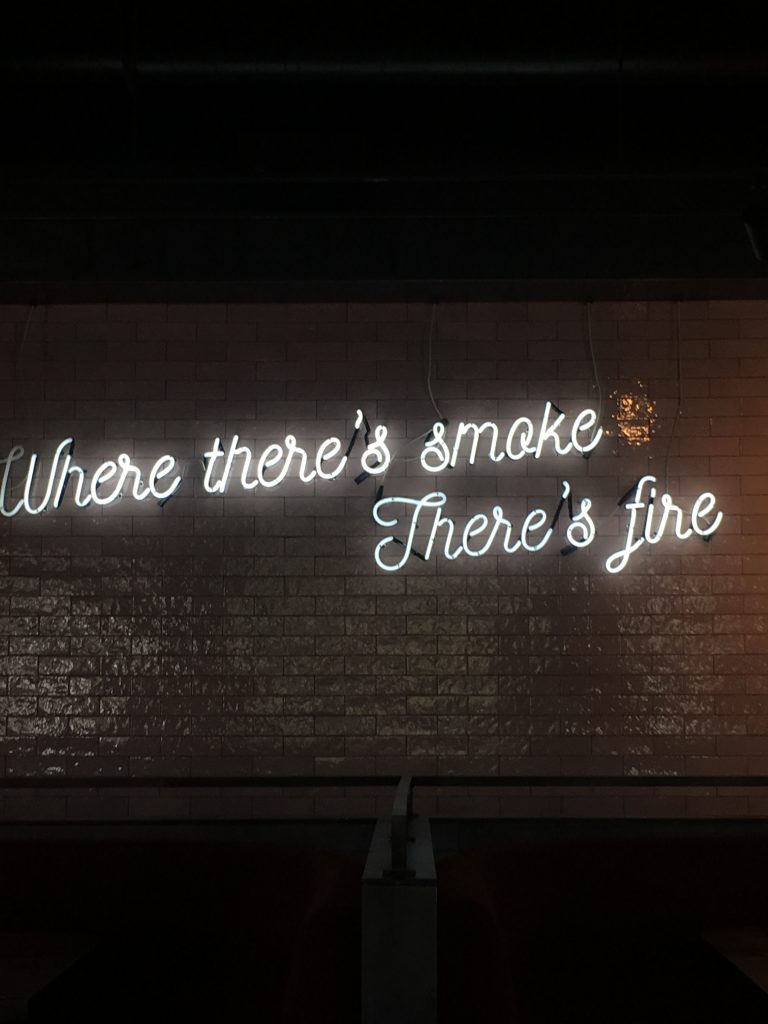 While you may think that BBQ is predominantly meat, at this visit to International Smoke, it was the seafood that won the prize. From the light and delicately sweet Ayesha's Fresh Baked Cornbread muffins with the brush of heat to the Whole Roasted Cauliflower that is fragrant with Middle Eastern spices and flavors (with a presentation that stops your conversation) to the main courses themselves.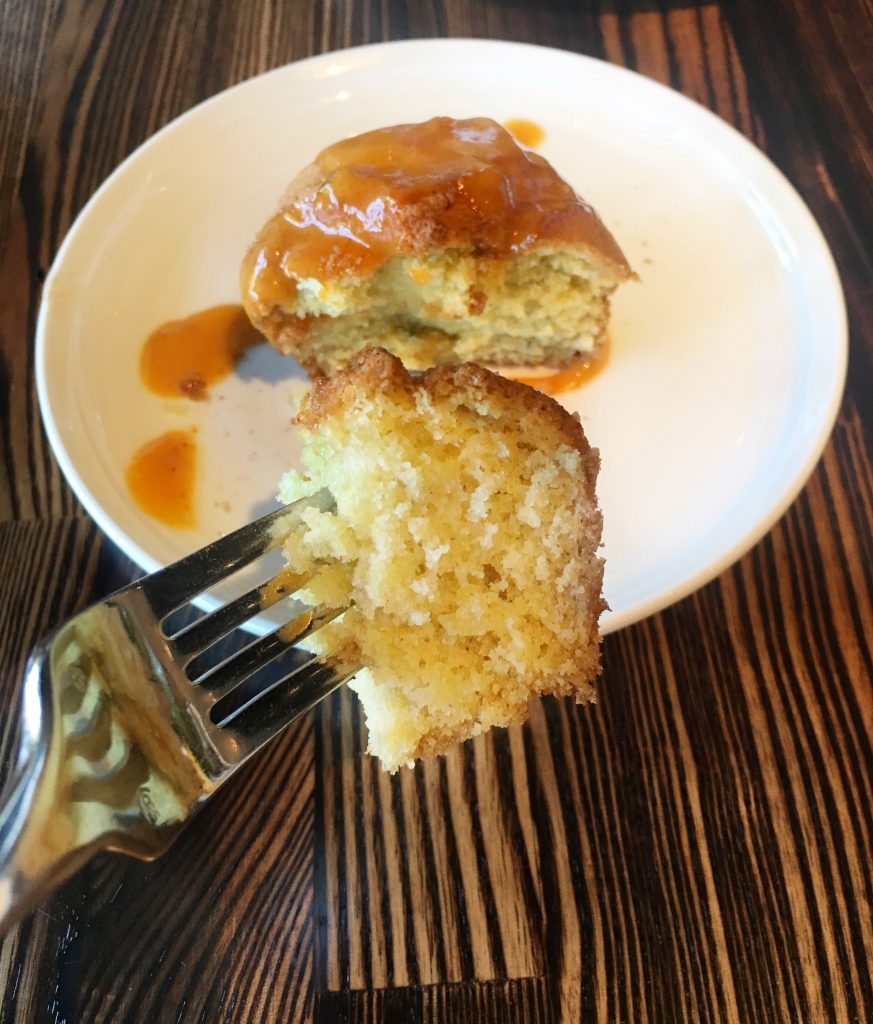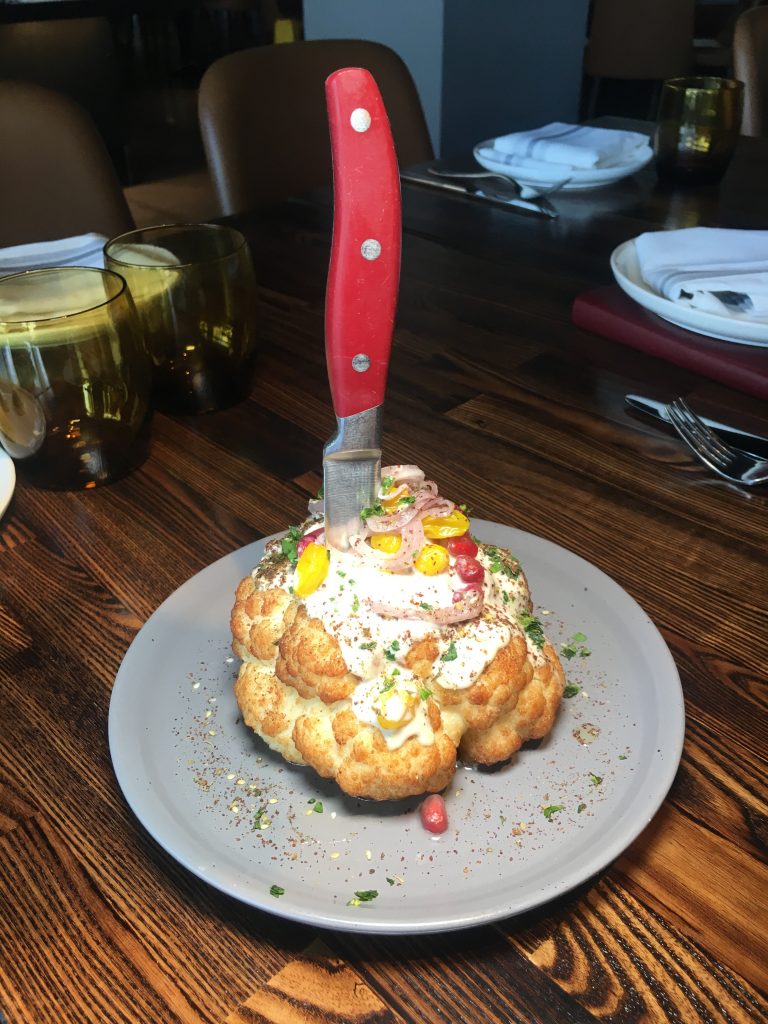 Asian Cedar Smoked Salmon and Mediterranean Branzino that look like works of art from the ingredients to the plating. Incredibly flavorful. Unquestionably fresh.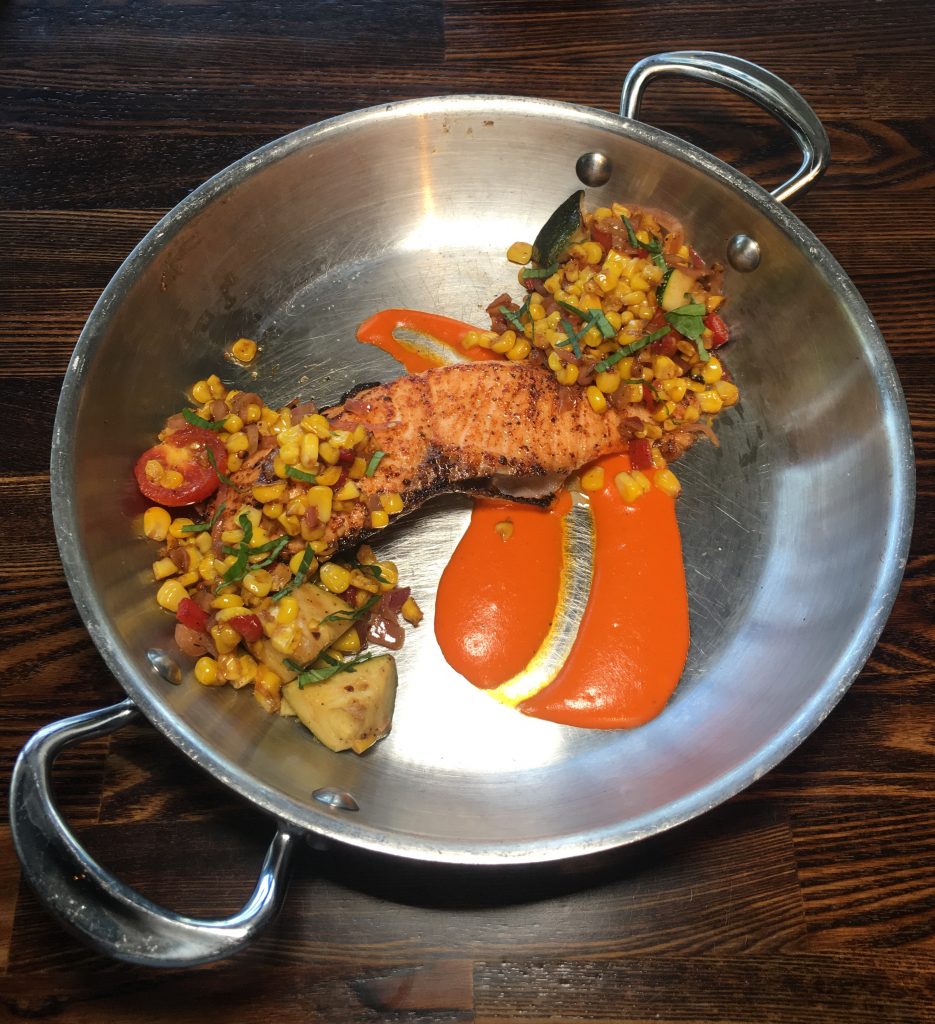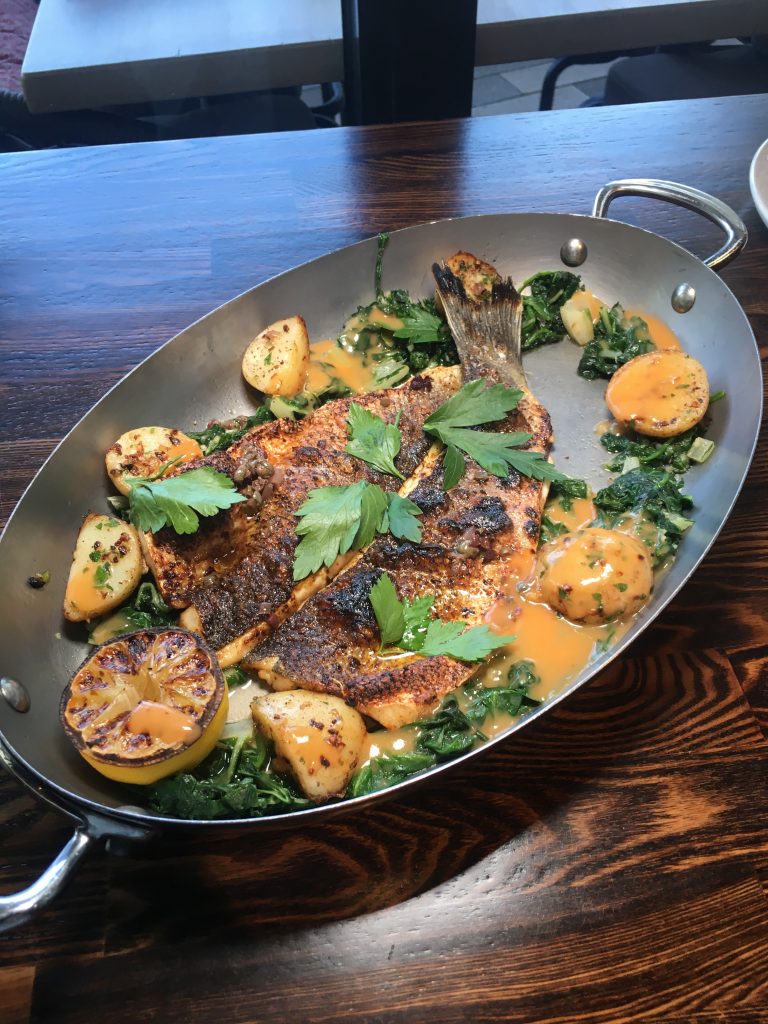 An environment that is modern yet warm. A menu that encompasses dishes for meat eaters, pescatarians and vegetarians. Come for a meal or cocktails and appetizers. There is something for everyone at International Smoke.
Within the JW Turnberry Miami, is another of James Beard award winning Chef, Michael Mina's ventures. This time, it's his highly regarded Bourbon Steak restaurant. Located just 10 minutes from Sunny Isles Beach, this steakhouse is upscale in design and menu. Elegant, sophisticated and with a splash of drama defines the look of the space.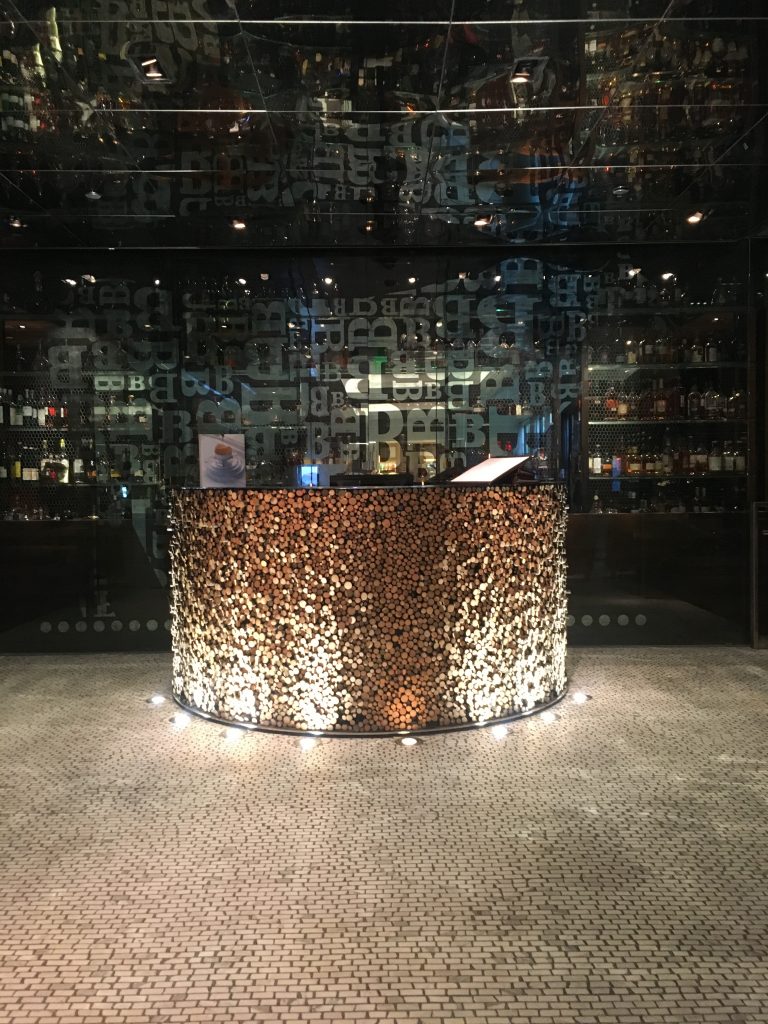 A wine list of more than 850 selections from their Wine Spectator Award winning cellar, along with a bar creating classic cocktails pairs beautifully with their extensive menu of prime cuts of American beef, Japanese A5 Wagyu beef and ice cold seasonal shellfish.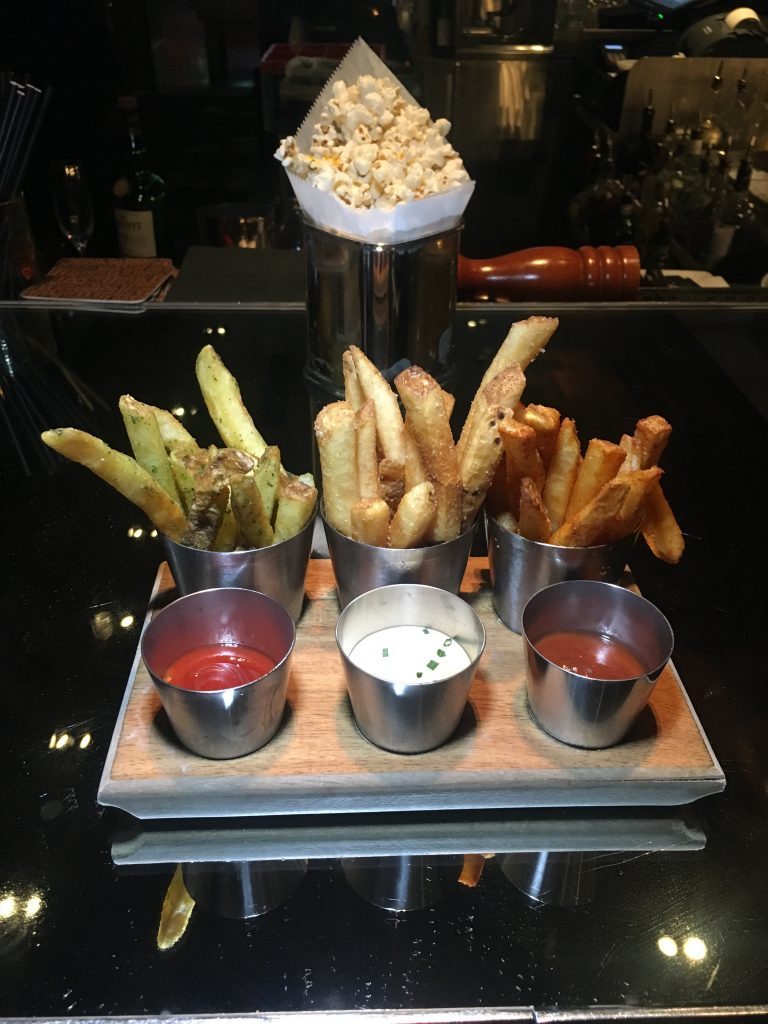 Start out any meal with a French fry presentation that includes three varieties of seasoned potatoes and dipping sauces, and you know you are on the right path to a memorable meal. From appetizers to main courses, each is flavorful, creatively presented and delicious.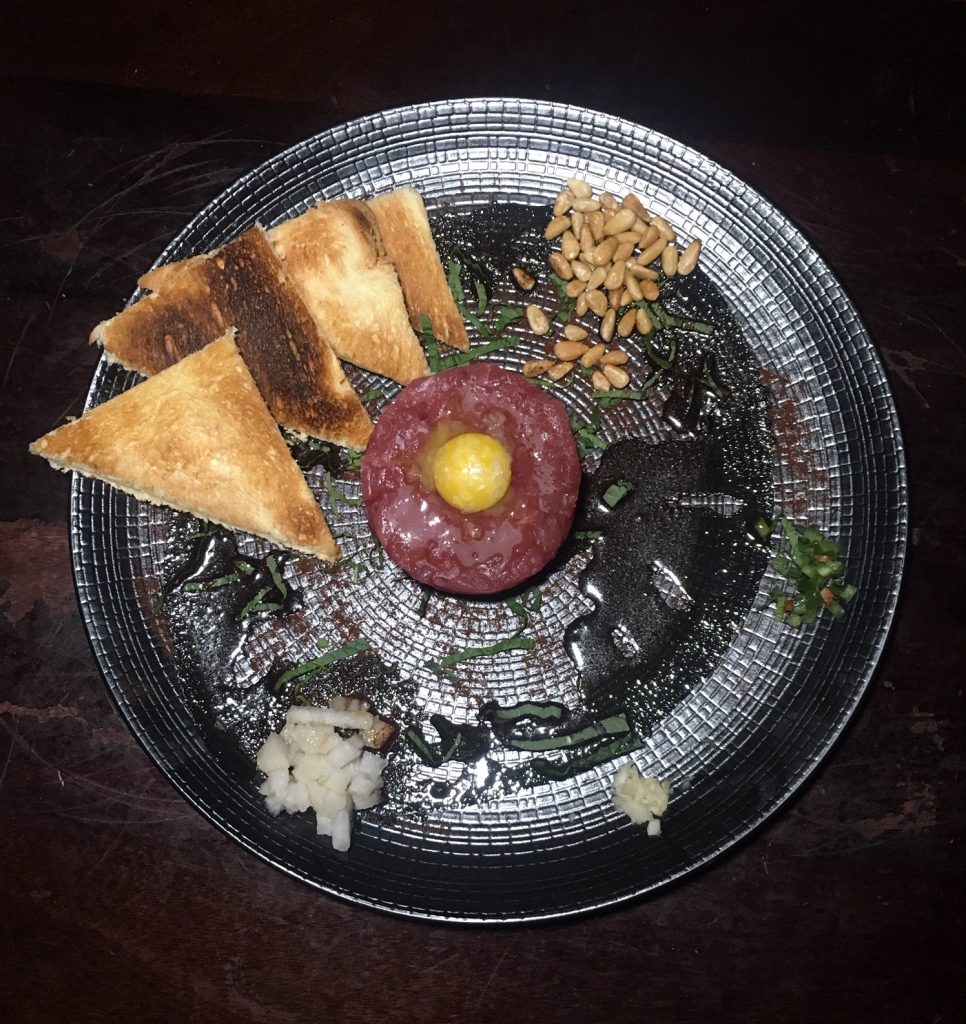 Michael's Tuna Tartare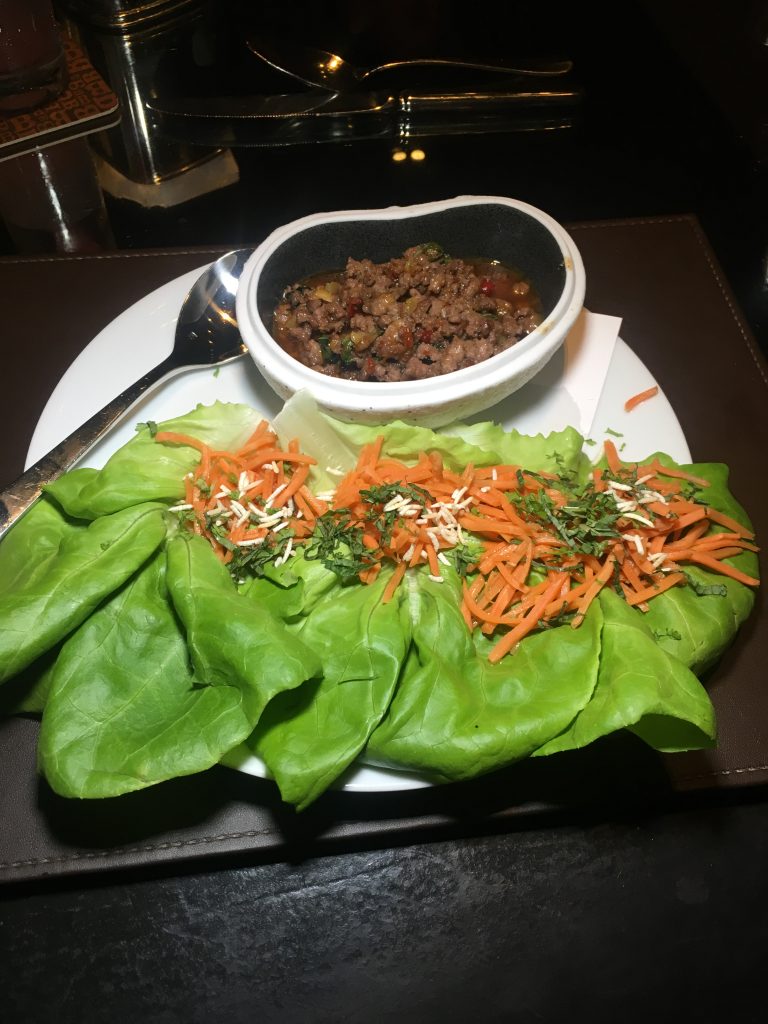 Spicy Beef Lettuce Cups with Thai chili and basil, sweet chili sauce, crunchy rice
Sit at the bar or table in the sophisticated dining room, wherever you are most comfortable. It's very clear that there are "regulars" here as they know what they like when it comes the menu.
Whether you are dining alone, with colleagues or family and friends, Bourbon Steak will leave a lasting impression for their dishes and service.
Located in the Sole Miami, A Noble House Resort, BALEENkitchen has floor to ceiling windows that allow for panoramic views of the Atlantic Ocean. The restaurant's design completes the waterfront vibe with soothing shades of blue.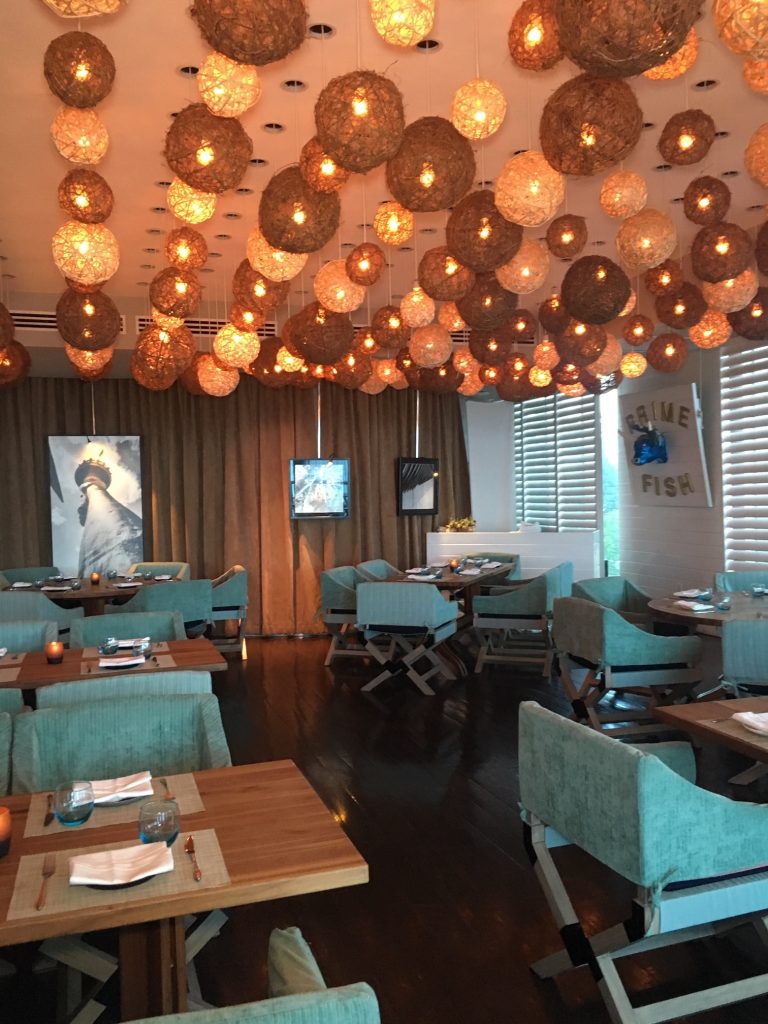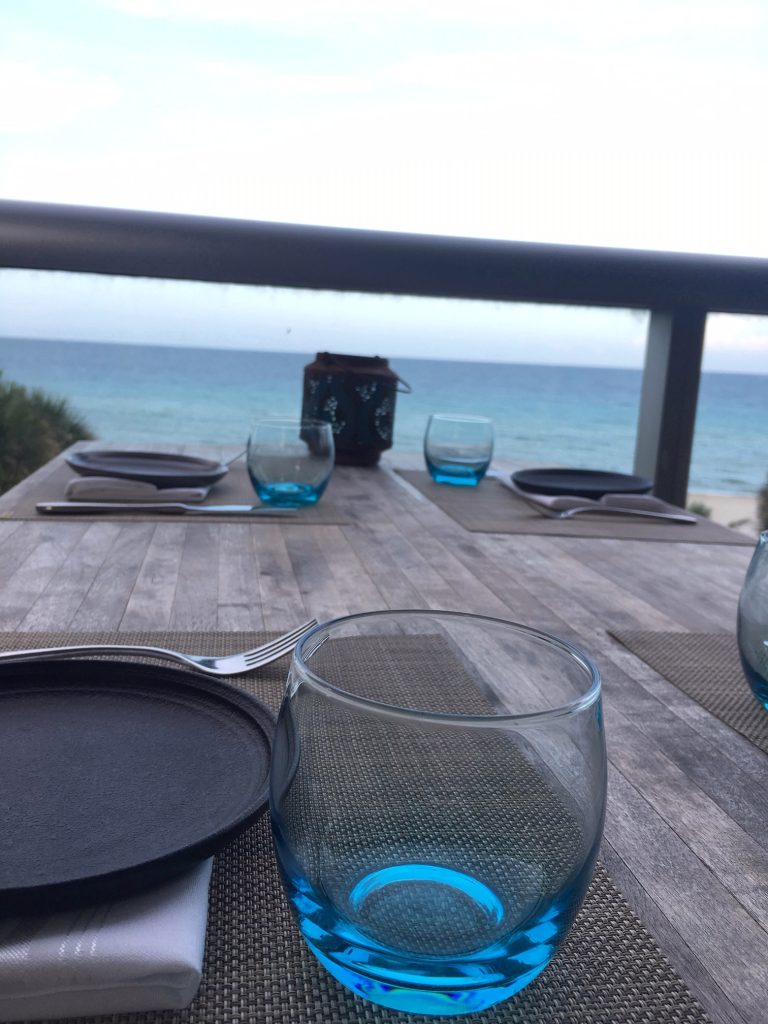 A casual, comfortable ambience with a menu that makes choosing what to order very difficult as you will want one of everything. Dinner at BALEENkitchen is a celebration of the flavors of the world with the restaurant's vision to "Eat Local. Think Global."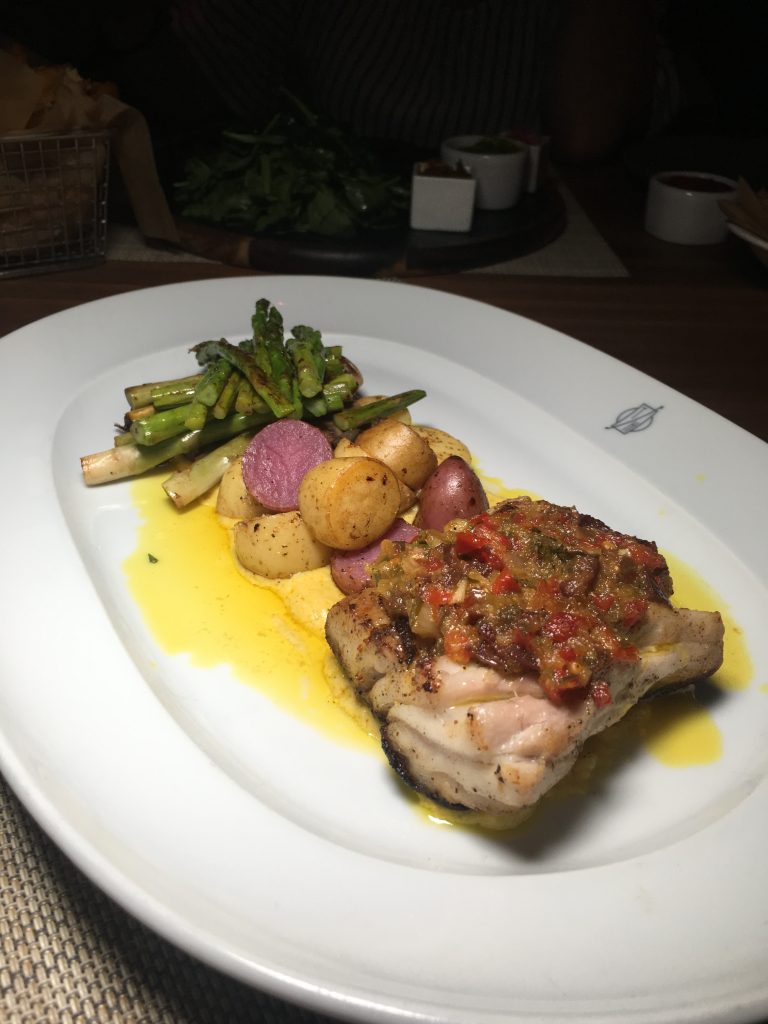 Pan Roasted Grouper with truffle corn puree, roasted marble potatoes, asparagus and cracked olive relish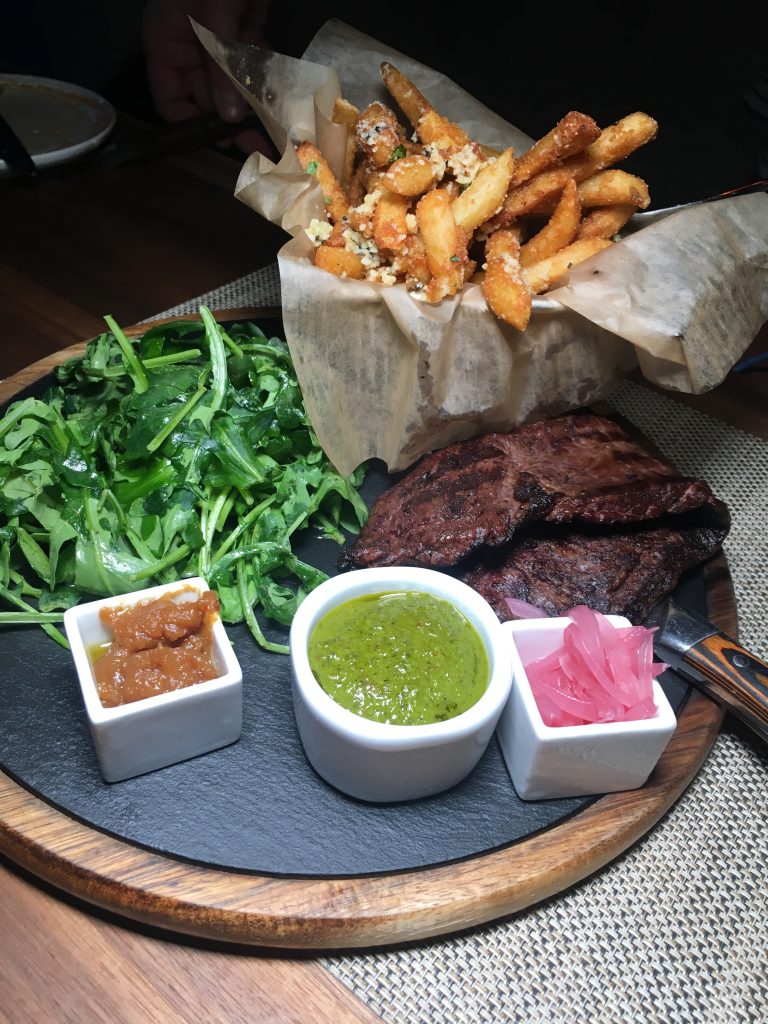 Skirt Steak Frites with parmesan truffle fries, arguula and brandy green peppercorn sauce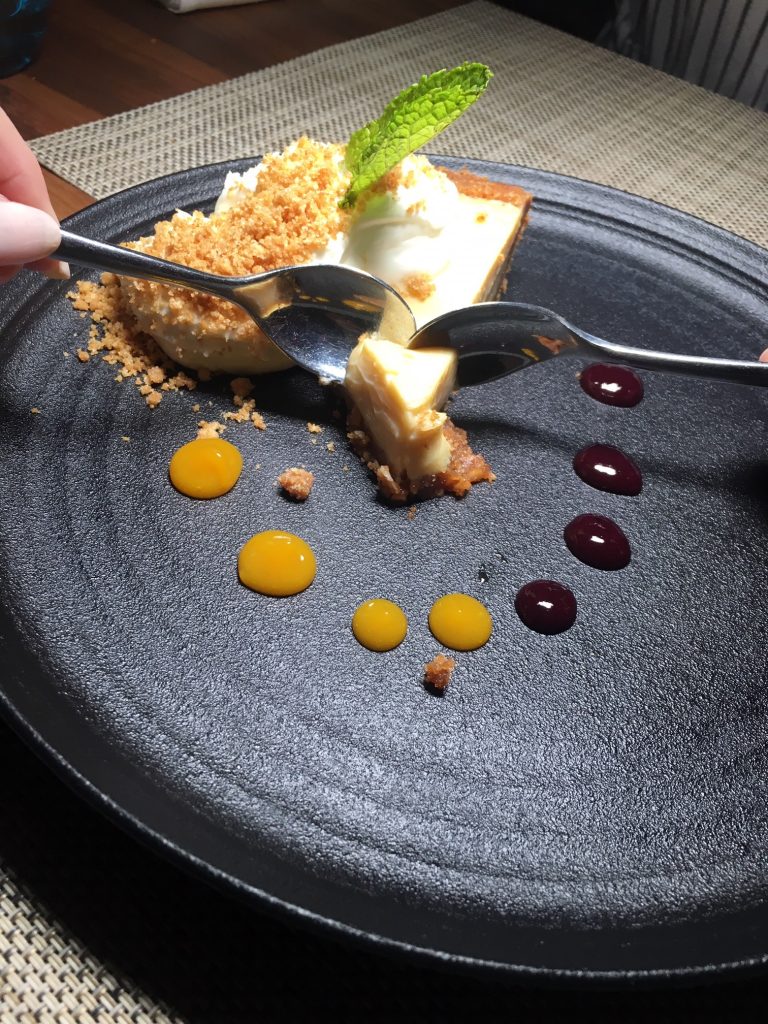 Key Lime Pie
Within the luxurious Acqualina Resort and Spa, you will find acclaimed fine dining restaurants, Il Mulino New York and AQ Chop House by Il Mulino. While Il Mulino New York offers a traditional Italian design with dark wood creating an intimate and cozy feel, the newly remodeled AQ Chop House showcases the Mediterranean and contemporary look that Acqualina is known for. With stunning artwork surrounding you as you walk through the lobby to the restaurant, it takes a moment to take in the restaurant's design. An enormous art-deco style chandelier draws your eyes up while at the same time your gaze drops to the picturesque windows that are a post card of Acqualina's branded red umbrellas and oceanfront location.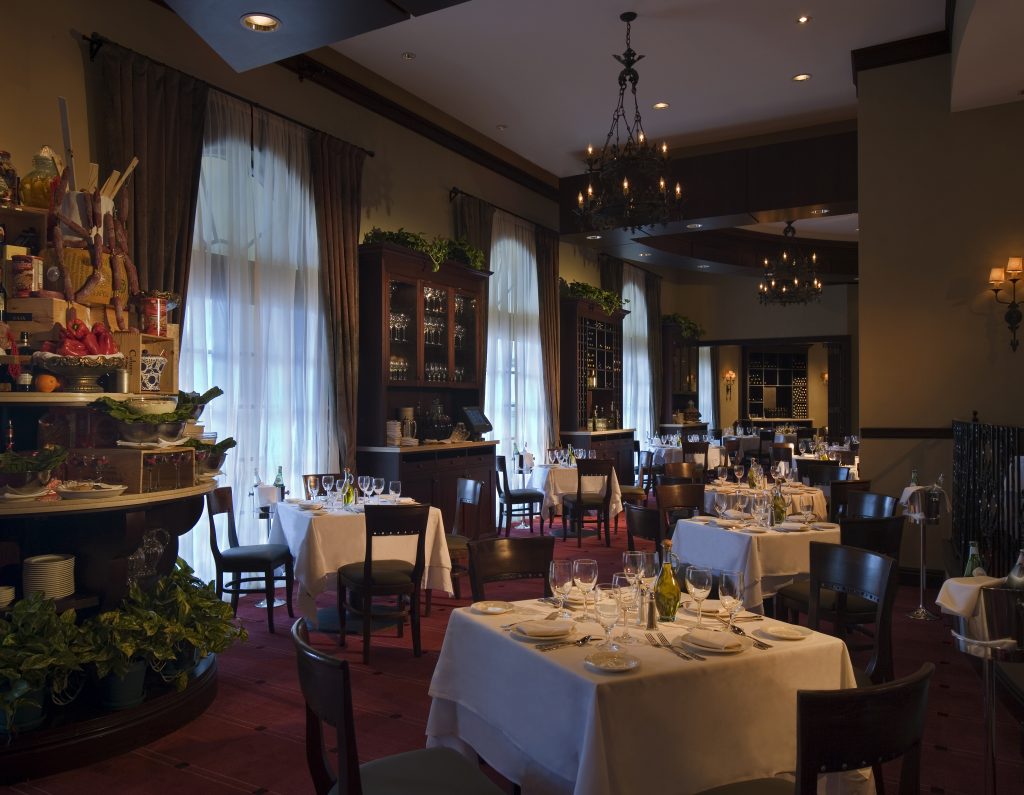 Il Mulino New York offers authentic Italian flavors, market fresh daily specials and flawless service along with an extensive selection of Italian wines. Legendary for their dinners, brunch enthusiasts will enjoy live music and an extensive buffet with unlimited Prosecco, Bloody Marys, Mimosas and Mojitos.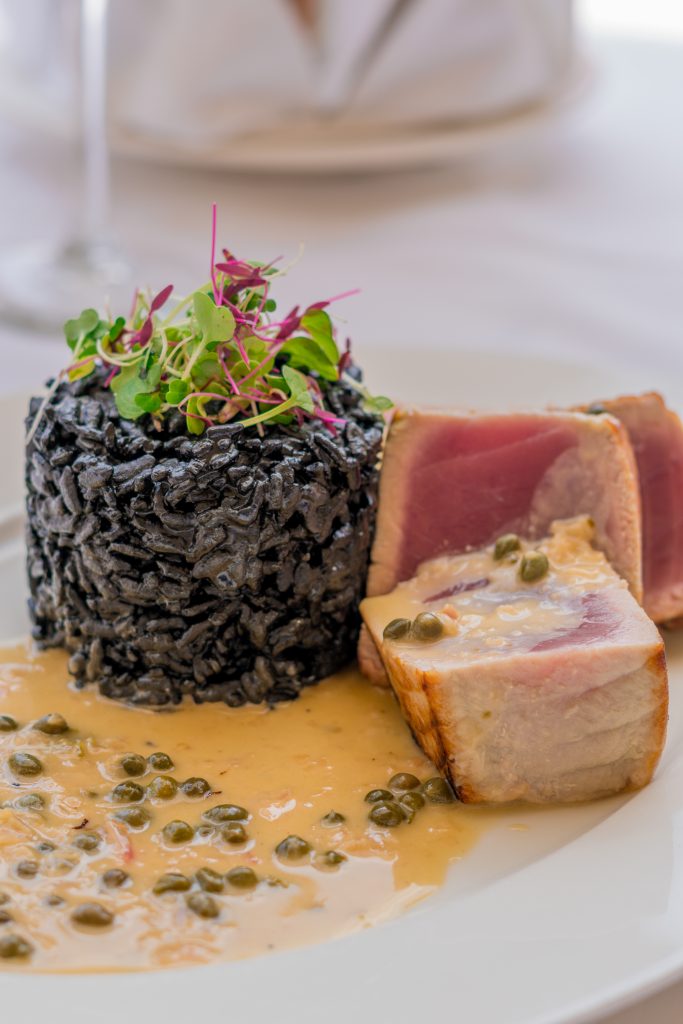 (Photo courtesy of Il Molino New York, Acqualina)
Recently opened, AQ Chop House by Il Mulino delivers a modern steakhouse feel with gourmet Italian cuisine. Prime cuts of meat and seafood as well as pastas provide a full menu to exceed guest's expectations. Along with the classic dishes are innovative choices like the Sheep's Milk Ricotta with Sea Salt and Extra Olive Oil, Branzino Crudo with Blood Orange and Frisee and Short Rib Ravioli with Sage and Butter.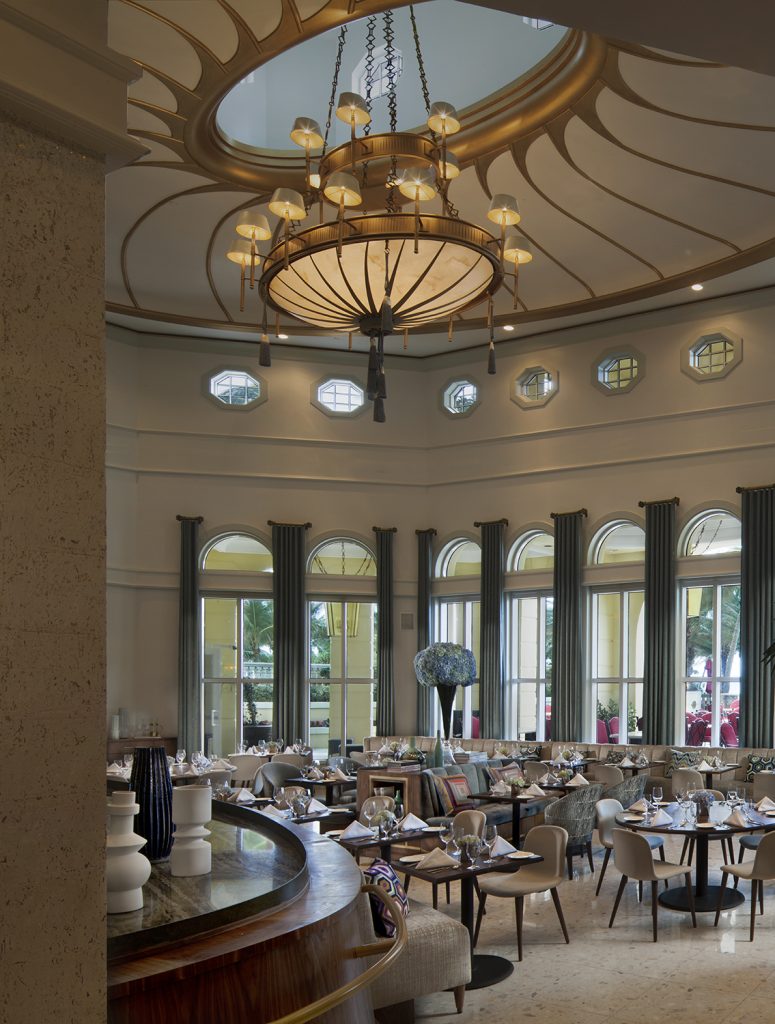 (Photo courtesy of Il Molino New York, Acqualina)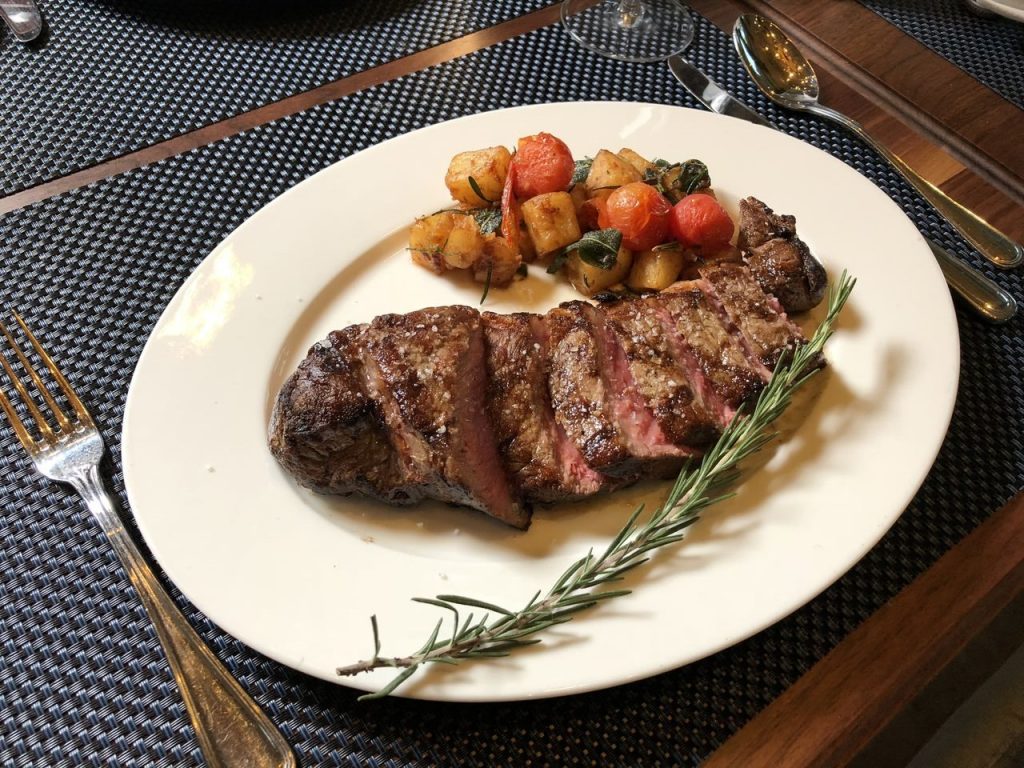 (Photo courtesy of Il Molino New York, Acqualina)
What a view. Breakfast on the AQ Terrace at the Acqualina Resort and Spa.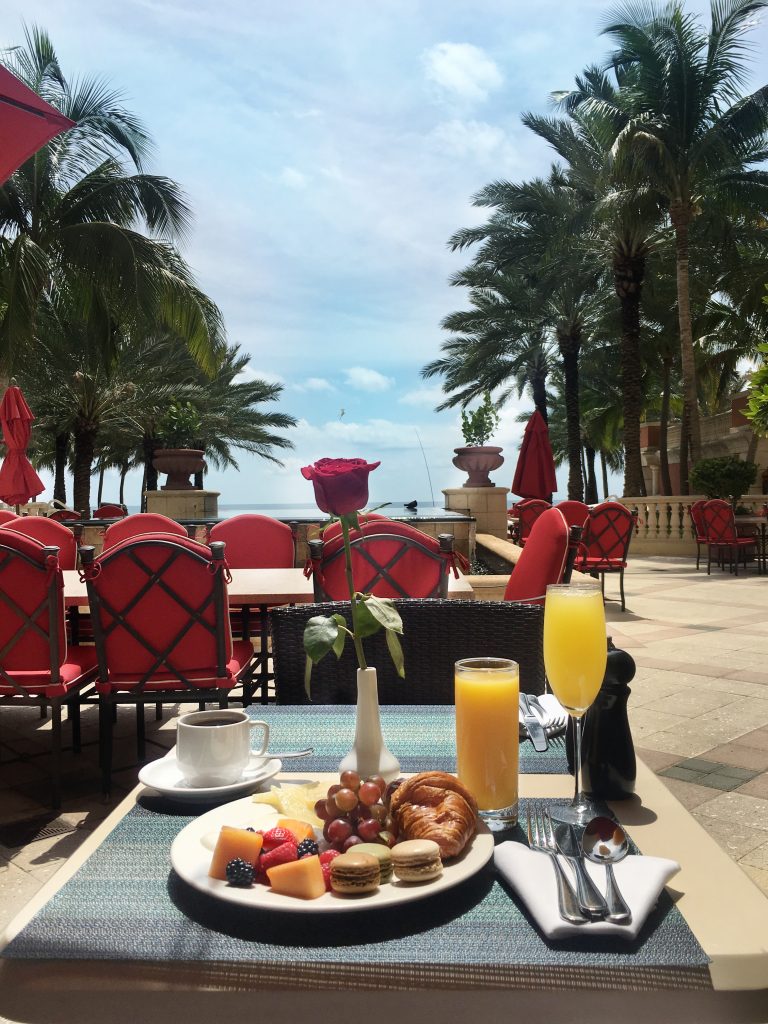 Back in 1920, Sunny Isles Beach (not officially named until 1977) was known as the "Venice of America" due to the waterways that surround the barrier island. With the emergence of the opulent residential high rises and resorts, this oceanfront vista with its stunning turquoise water and sugary white sand beaches rightly deserves the newly granted title of the "Florida Riviera". In fact, Sunny Isles Beach is ranked number one of the top ten U.S. destinations by TripAdvisor Travelcast.
With plentiful transportation options, a forecast of warm weather and sunshine, extensive dining options and a wealth of activities, Sunny Isles Beach is the ideal vacation spot for individuals, families and couples looking to escape their hectic lifestyle. For more information on all Sunny Isles Beach has to offer, please see their visitor's guide.
All images courtesy of DLX Contributor, Julie Gordon of Inspiring Kitchen, unless otherwise noted. Follow Inspiring Kitchen to learn about trends in luxury culinary travel, kitchen design and housewares as well as favorite finds in the food and cooking world.